Upcoming Lessons
Introducing you to new planes in spirituality, society, and self-awareness - one week at a time
Right Now You're Here—And Nowhere Else
Investing Everything into the Task at Hand. And Then Moving On to the Next
"Live in the moment" is a popular buzz phrase today. But what if the next moment is equally, or even more, important? The Jews' puzzling behavior with the spoils at the sea teach us an important lesson about this very question.
Week of Jan 29, 2023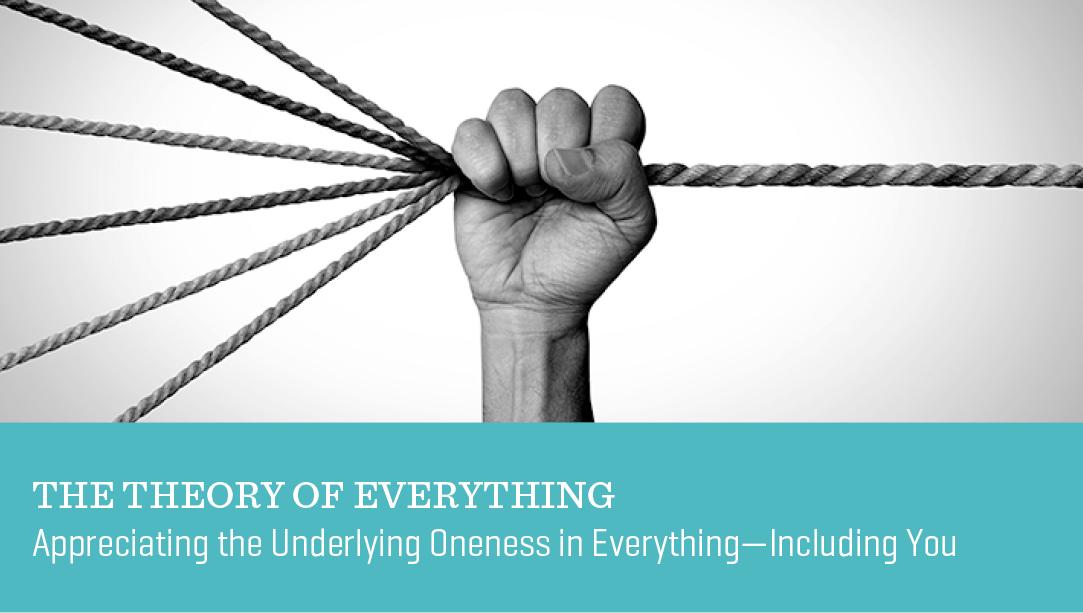 The Theory of Everything
Appreciating the Underlying Oneness in Everything—Including You
We live in an incredibly fragmented world; everything and anything eventually seems to splinter, come apart, or disintegrate. What is the secret glue that holds everything together—in our lives, throughout the world, and over history? Discover the Theory of Everything.
Week of Feb 5, 2023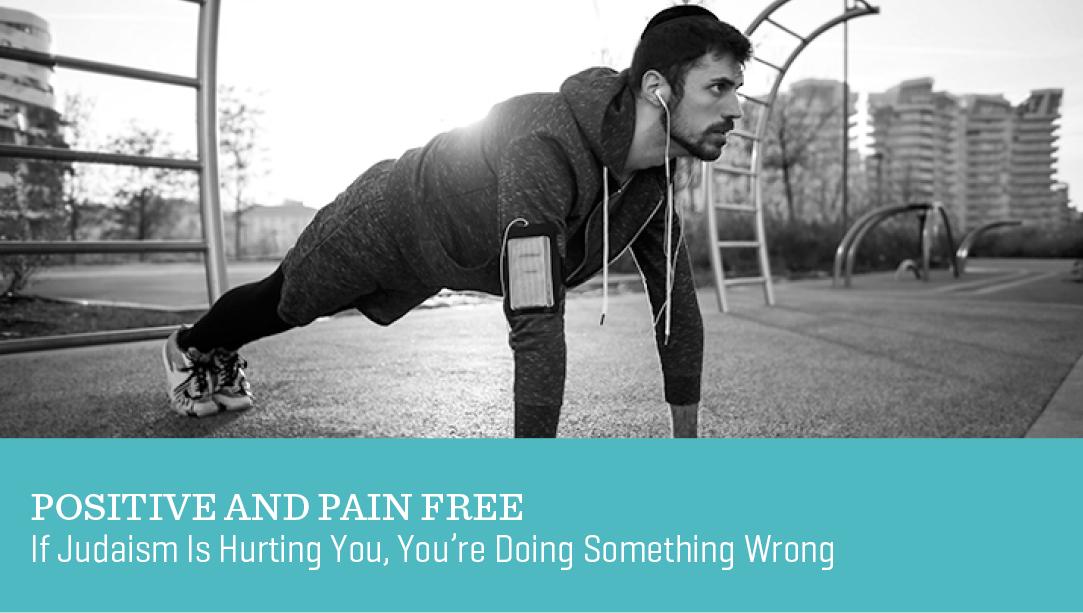 Positive and Pain Free
If Judaism Is Hurting You, You're Doing Something Wrong
Piety and asceticism have long been considered ideological allies. Indeed, fasting, abstinence, and a general disdain for the body and materialism are the assumed brand of the sincerely devout. But along came the Chassidic revolution and brought with it a somewhat brazen but ultimately beautiful version of Judaism that's yours to enjoy.
Week of Feb 12, 2023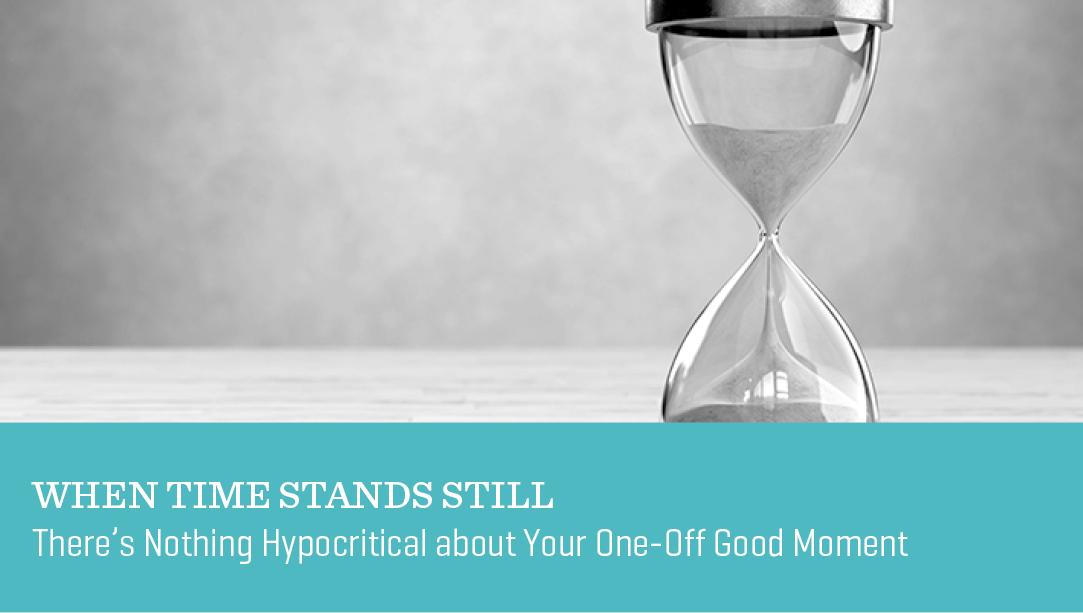 When Time Stands Still
There's Nothing Hypocritical about Your One-Off Good Moment
One of the greatest challenges to meaningful change is the nagging feeling that whatever changes we make are only incremental and not reflective of our true selves. So why bother? When it comes to your relationship with G-d, the surprising and refreshing truth is that every move carries infinite, timeless value.
Week of Feb 19, 2023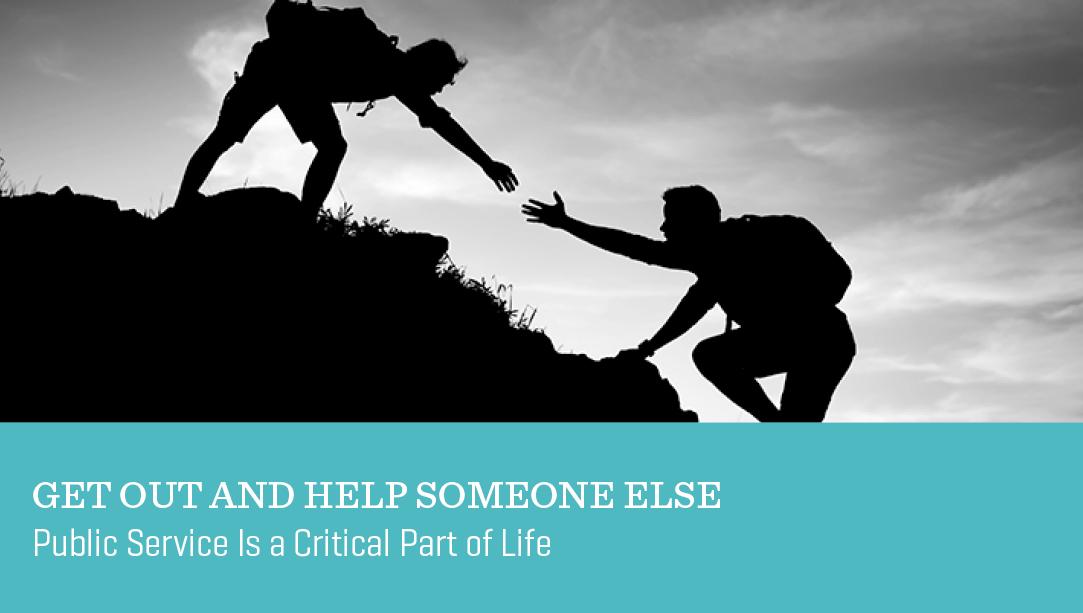 Get Out and Help Someone Else
Public Service Is a Critical Part of Life
In an era of self-development, self-actualization, and self-fulfillment, putting aside personal needs to help someone else is somewhat of a lost art. While Western society has shifted over the last century from the collective to the individual, Purim's other main character, Mordechai, teaches us to push back on the trend.
Week of Feb 26, 2023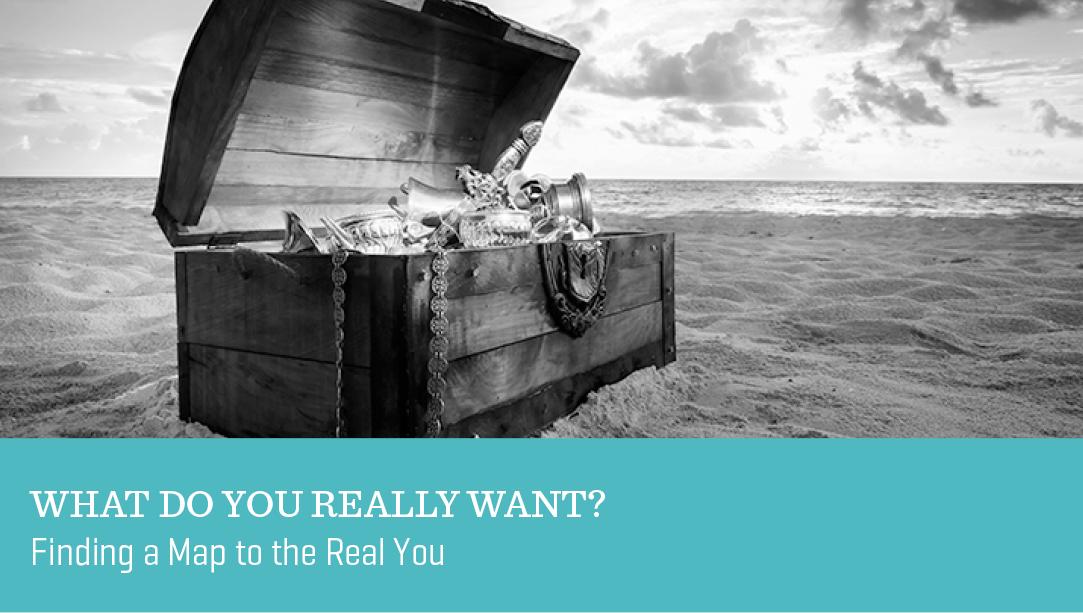 What Do You Really Want?
Finding a Map to the Real You
We all want a lot of money, a big house, nice cars, healthy relationships, good vacations, and even a sprinkle of happiness and meaningful moments. But what do you really want? And how do you get there? Discover the formula for identifying and unlocking the real you.
Week of Mar 5, 2023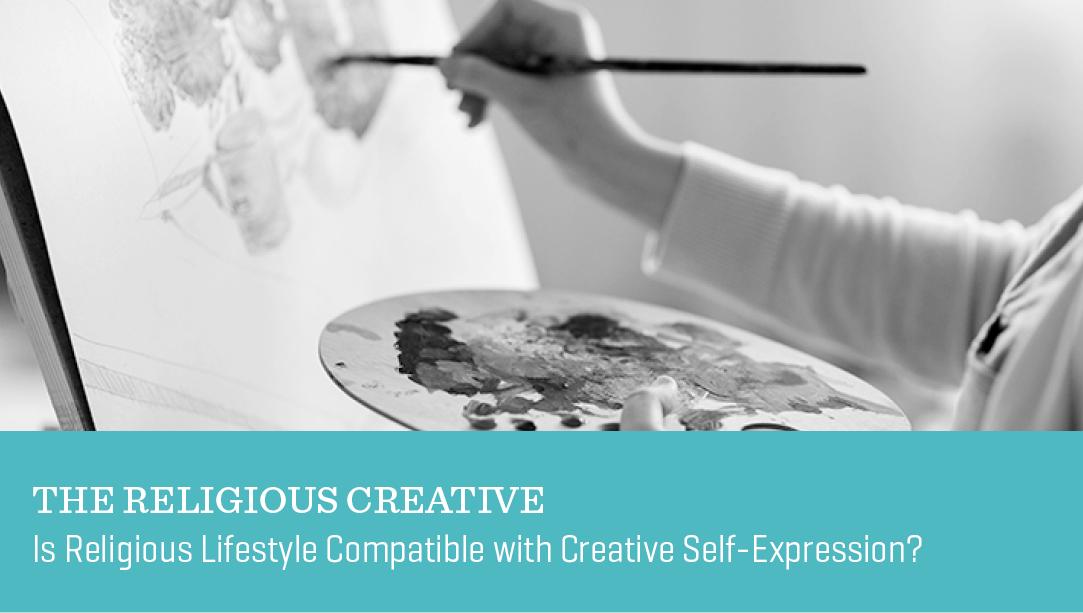 The Religious Creative
Is Religious Lifestyle Compatible with Creative Self-Expression?
Poetry, music, painting, liberal arts: none of these sound like the stuff of a devout religious lifestyle. Stories of tradition, conformity, and asceticism are the bread and butter of religion. Can the twain meet? Of course they can! Discover how.
Week of Mar 12, 2023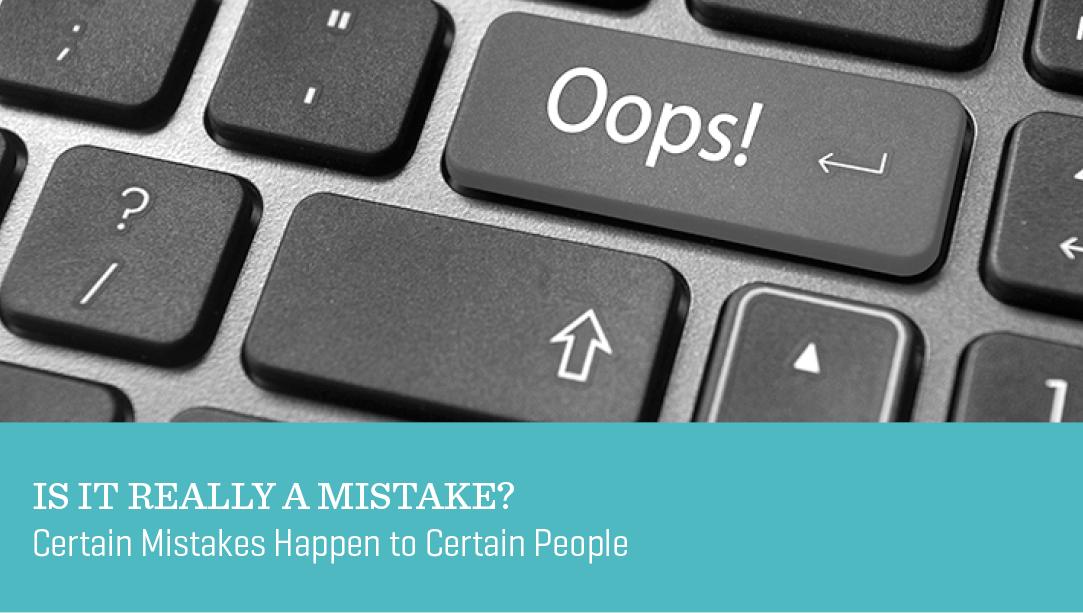 Is It Really a Mistake?
Certain Mistakes Happen to Certain People
What do our mistakes say about us? Is "It was just a one-time mistake" an acceptable defense? Discover the lesson taught by an errant leader in Temple times: Moral lapses are not just one-off events to be ignored because they go unpunished. Instead, reflect on what your mistakes mean about your life at large.
Week of Mar 19, 2023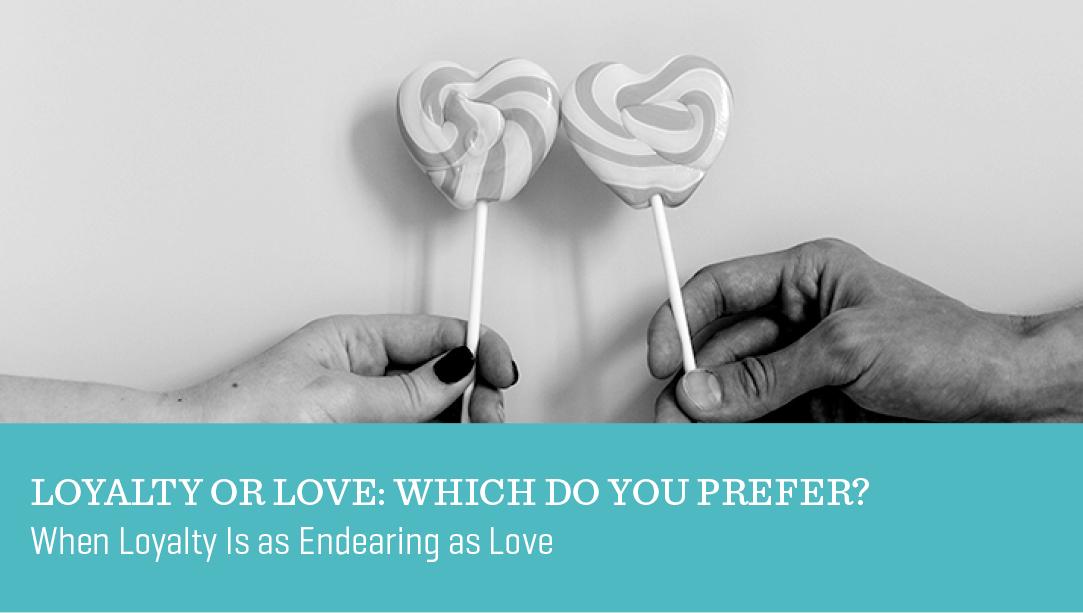 Loyalty or Love: Which Do You Prefer?
When Loyalty Is as Endearing as Love
Is trudging through a relationship on brute commitment alone a good thing or bad thing? Well, it depends how you look at it. A detailed analysis of the leavening qualities inherent in the Passover matzah reveals that sometimes, loyalty and commitment are exactly the type of love we could all use.
Week of Mar 26, 2023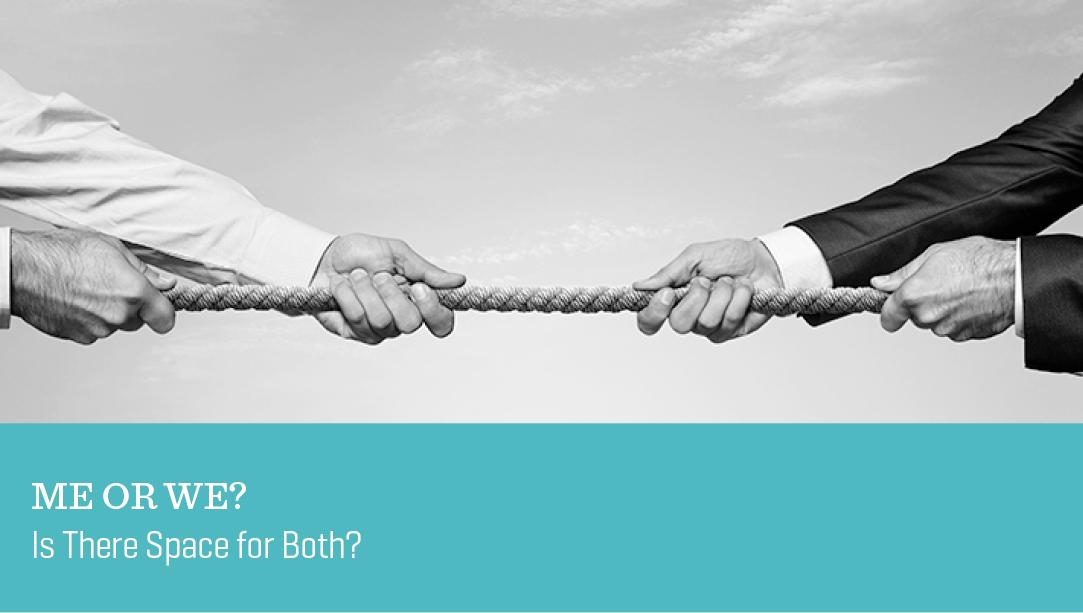 Me or We?
Is There Space for Both?
It's a familiar tension that pops up all the time: Who should I prioritize: myself or someone else? Sometimes it seems impossible to do both. A close look at Moses's life and his thundering words to Pharaoh tell us that when G-d is involved, "me and you" can both be served.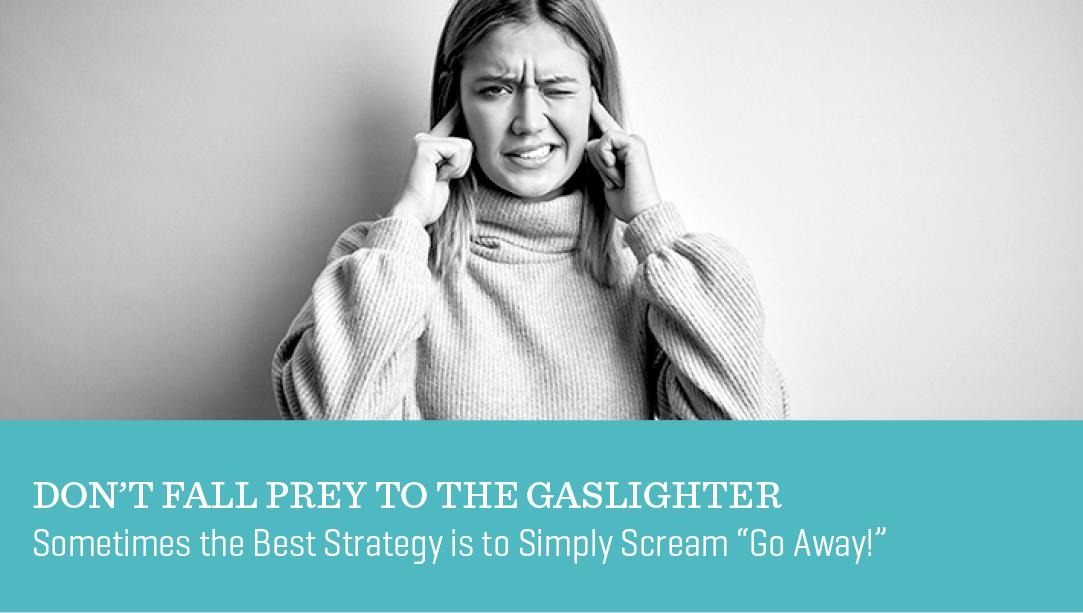 Don't Fall Prey to the Gaslighter
Sometimes the Best Strategy is to Simply Scream "Go Away!"
There's the truth, and then there are a million other versions. Usually, we know the truth. So when others come along and try to convince us otherwise, it's best to recognize them for what they are: lying, manipulating forces that deserve nothing more than a shout: "Get out of my life!"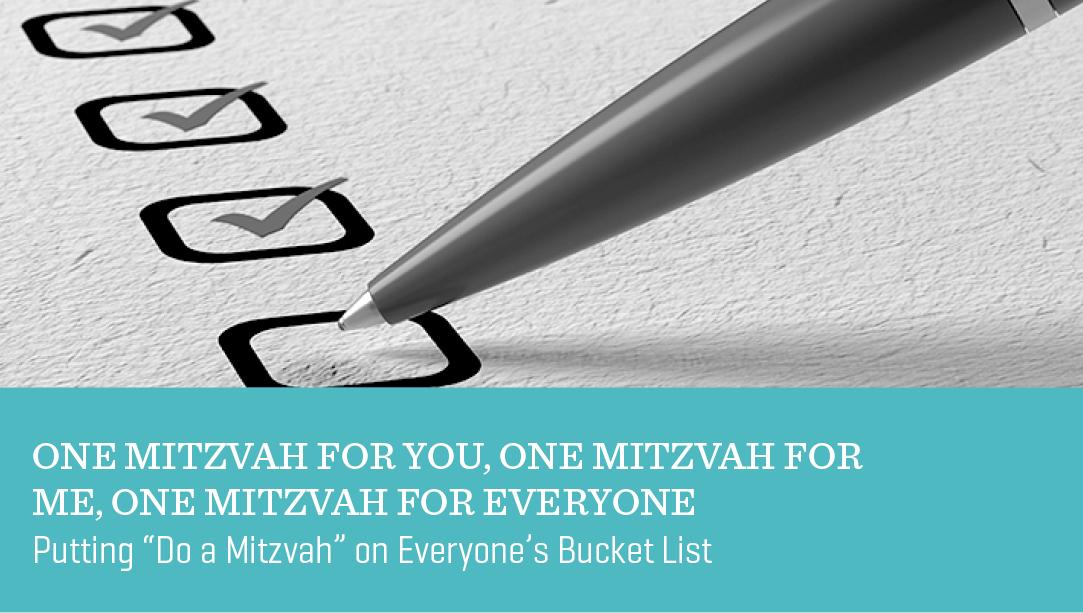 One Mitzvah for You, One Mitzvah for Me, One Mitzvah for Everyone
Putting "Do a Mitzvah" on Everyone's Bucket List
Do you have a bucket list of things you'd like to do at least once in your life? Many people have such lists. What they may not know is that "do a mitzvah" could well be the most important item to add to that list, for the entirety of Creation depends on it.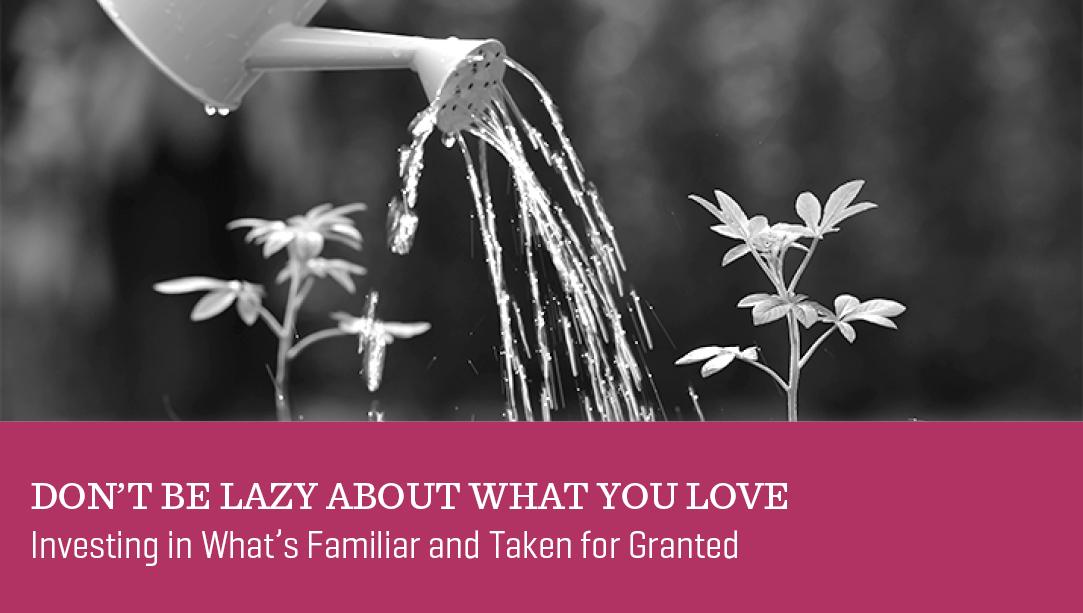 Don't Be Lazy about What You Love
Investing in What's Familiar and Taken for Granted
"Ah, don't worry, they'll understand." How often do people say this offhand remark to dismiss a minor offense? Too often. In this fascinating ride, discover how the murderous Cain made the same mistake—and how you are able to be Abel: committed and invested.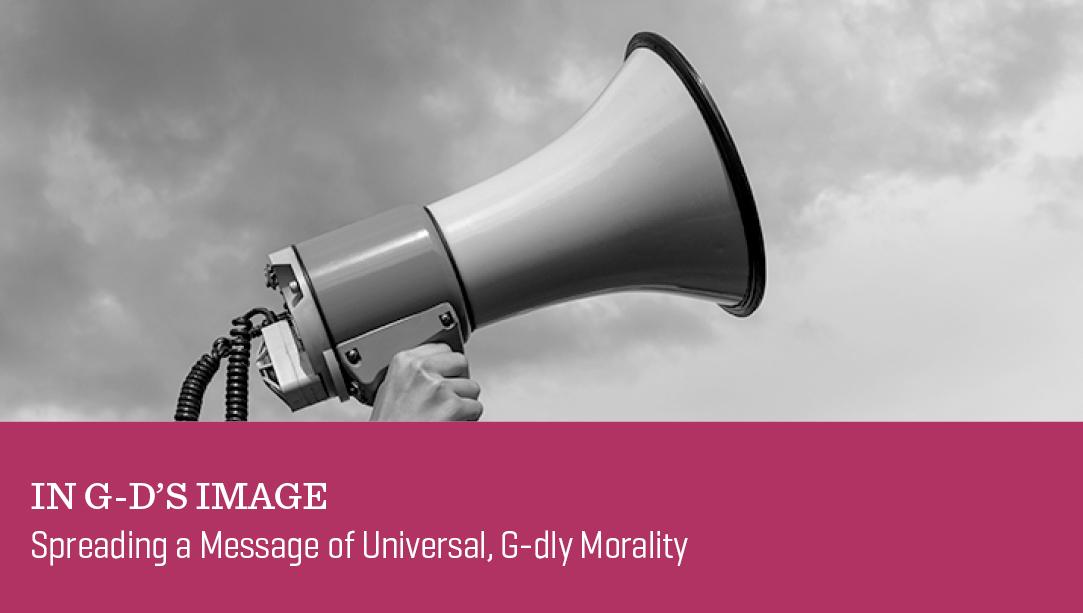 In G-d's Image
Spreading a Message of Universal, G-dly Morality
Historically, Jews have kept to themselves. But times they are a-changin', and we now have the unprecedented opportunity to be a "light unto the nations." Drawing inspiration from Noach, this lesson provides a most edifying message to shout from the rooftops: you are a literal part of G-d; act accordingly!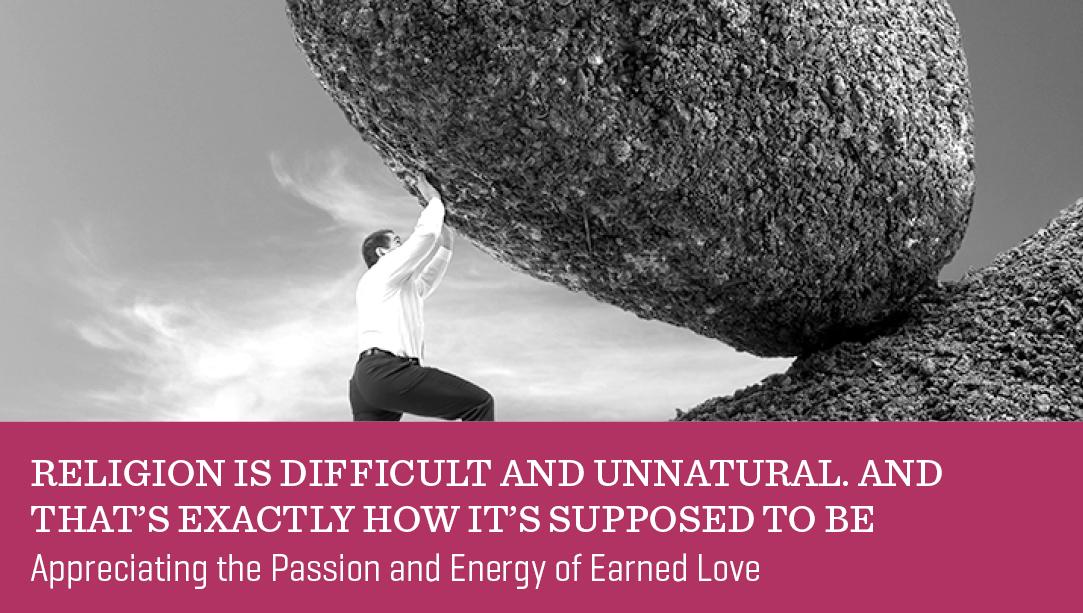 Religion Is Difficult and Unnatural. And That's Exactly How It's Supposed to Be
Appreciating the Passion and Energy of Earned Love
After leading a somewhat religious lifestyle for decades on end, you would expect things to get a bit easier, right? Wrong. Well, if you're looking for a boring and dry relationship with G-d, then maybe. But if you're looking for something deeper, welcome aboard.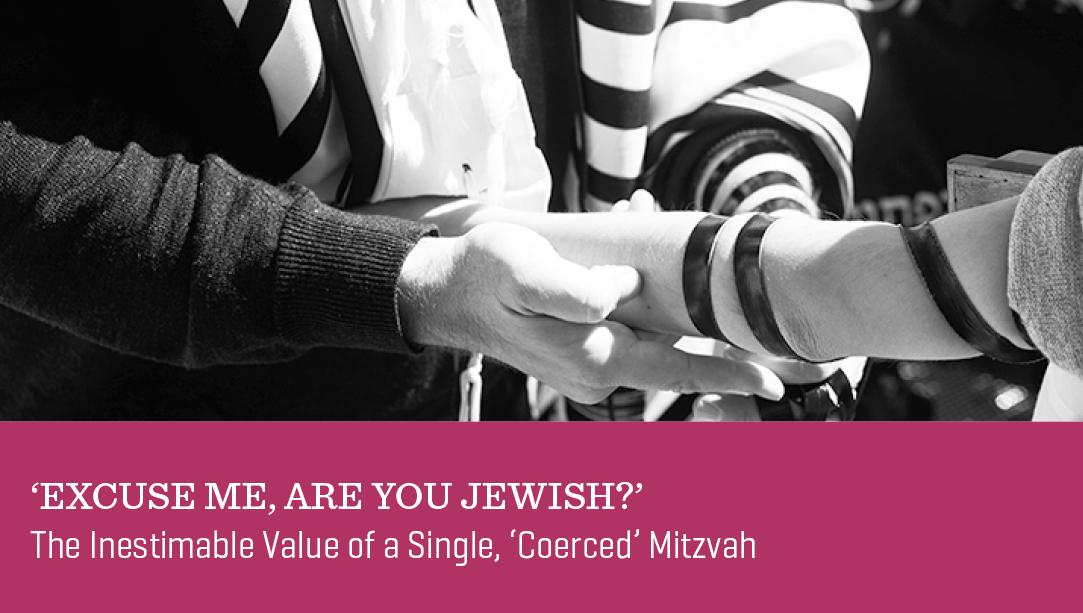 'Excuse Me, Are You Jewish?'
The Inestimable Value of a Single, 'Coerced' Mitzvah
You may have been stopped in the street by an inspired young boy or girl with the question, "Are you Jewish? Would you like to put on tefilin or light this Shabbat candle?" But what's the point of doing a mitzvah just to get a young kid off your back? Abraham's actions long ago provide the answer.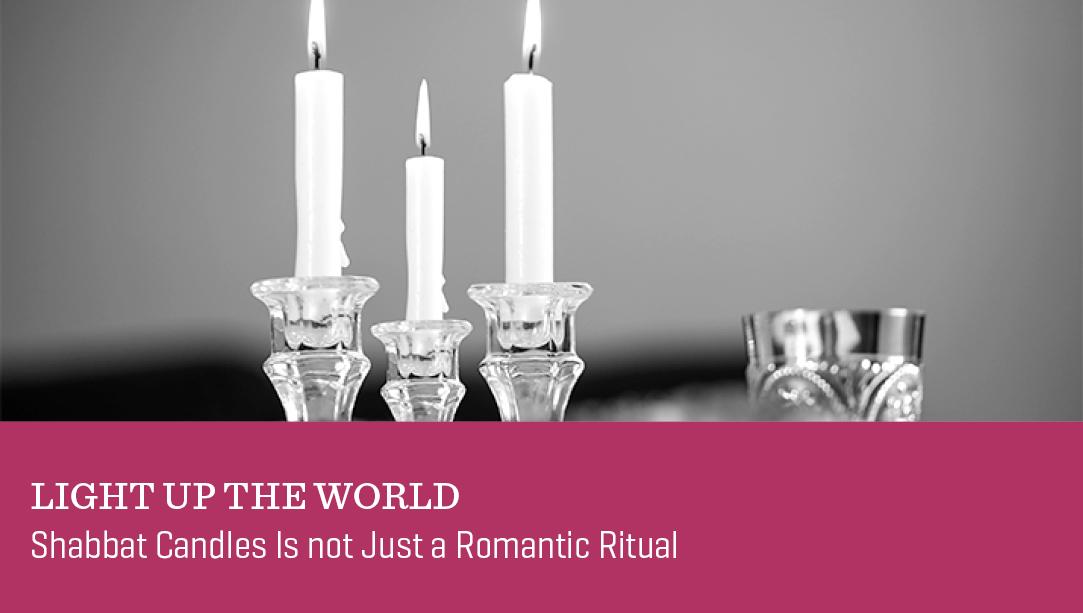 Light up the World
Shabbat Candles Is not Just a Romantic Ritual
There are many ways to work toward a just and moral society. The most tried and tested way begins at home: instilling values in the next generation. The sacred glow of Shabbat is far more than just an antecedent to a lightbulb; it is a spiritual light that burns brightly in the minds and hearts of everyone in the home.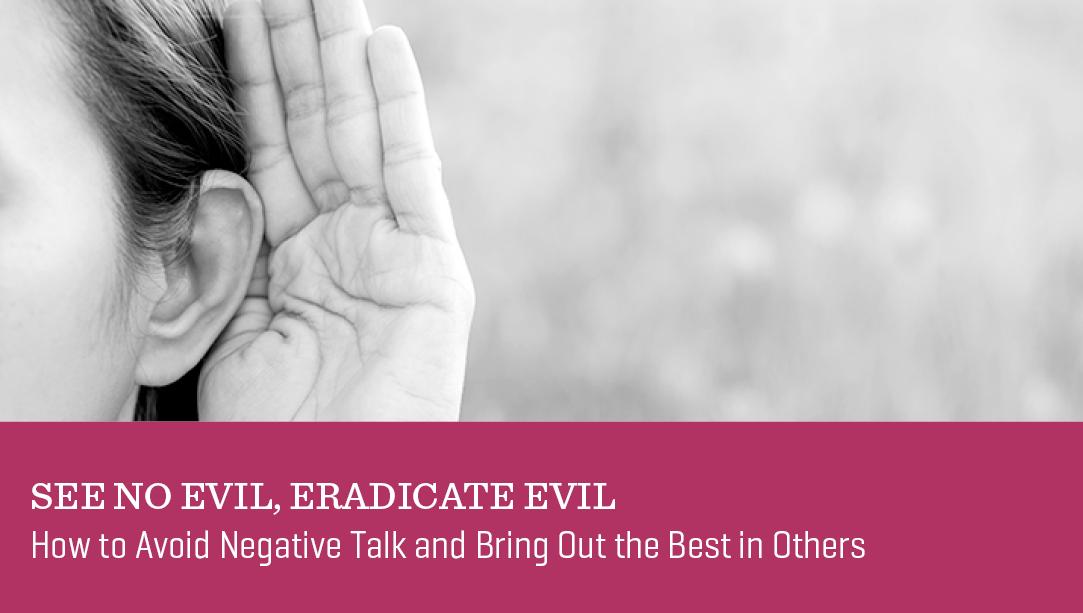 See No Evil, Eradicate Evil
How to Avoid Negative Talk and Bring Out the Best in Others
Gossip, slander, and the rumor mills are objectively pernicious things to avoid. But what do we do about all the bad actors out there? For decades, our forefather Isaac suffered from blindness to teach us all an invaluable lesson: there's always something good to see in someone else, and if we can find it, maybe they will, too.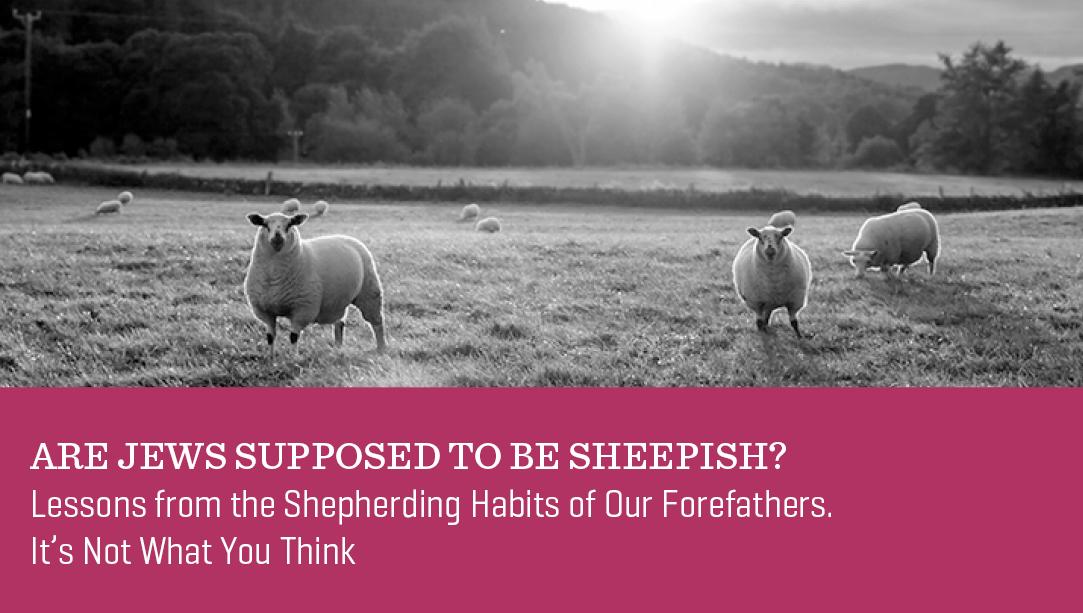 Are Jews Supposed to be Sheepish?
Lessons from the Shepherding Habits of Our Forefathers. It's Not What You Think
The stereotypical image of the meek Jew who favors the study hall or the home is a bane for many. "No, we can fight, too! We can hold our own!" is common pushback. Our forefathers' obsession with sheep, of all animals, teaches us the perfect blend of humility and strength.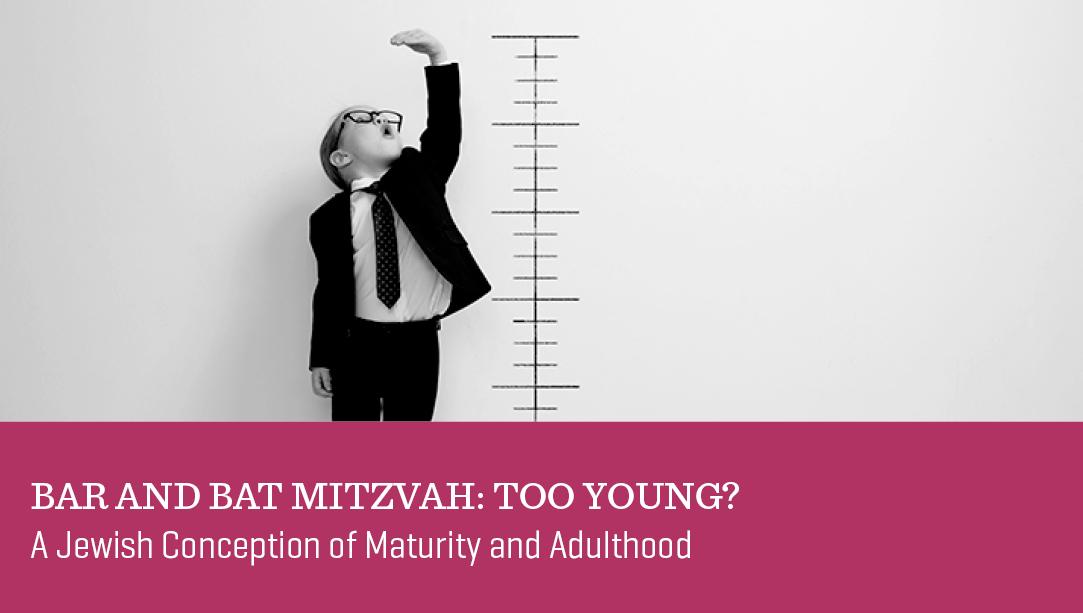 Bar and Bat Mitzvah: Too Young?
A Jewish Conception of Maturity and Adulthood
"Mazel tov! You're now an adult," said everyone's friends and uncles. But aren't twelve and thirteen far too young for such a statement to be really true? The counterintuitive story in the Torah that provides this age bracket tells us what "maturity" in Jewish thought is really about.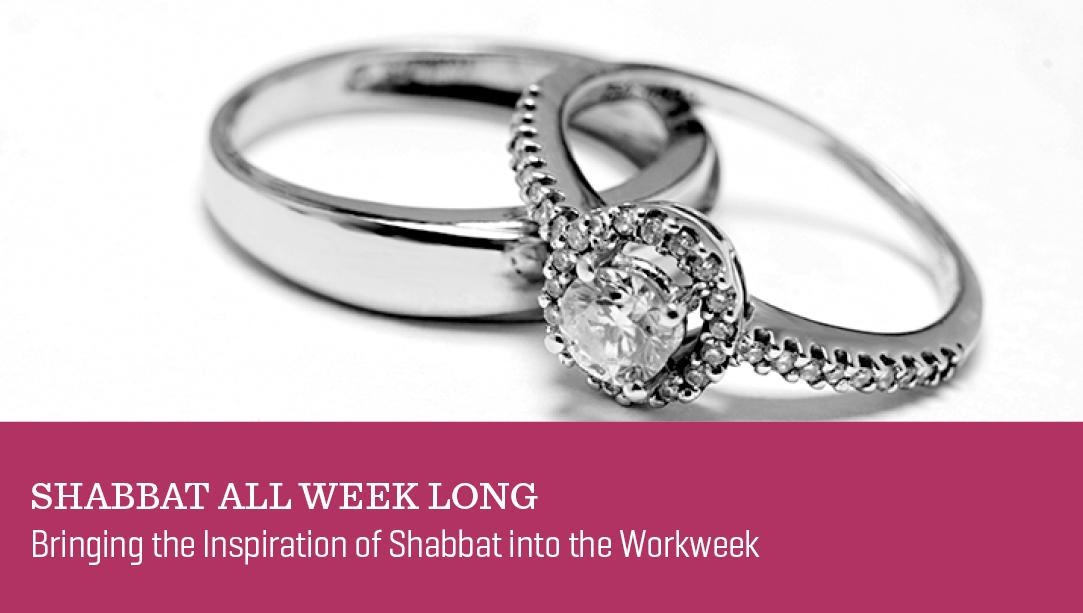 Shabbat All Week Long
Bringing the Inspiration of Shabbat into the Workweek
Did you know that the ancient custom of a wedding ring is rooted in a dramatic biblical story of betrayal and childbirth? And did you know that wedding rings are connected to Shabbat and the workweek as well? Discover the mystical meaning of the wedding ring and how it can infuse meaning into the mundane workweek.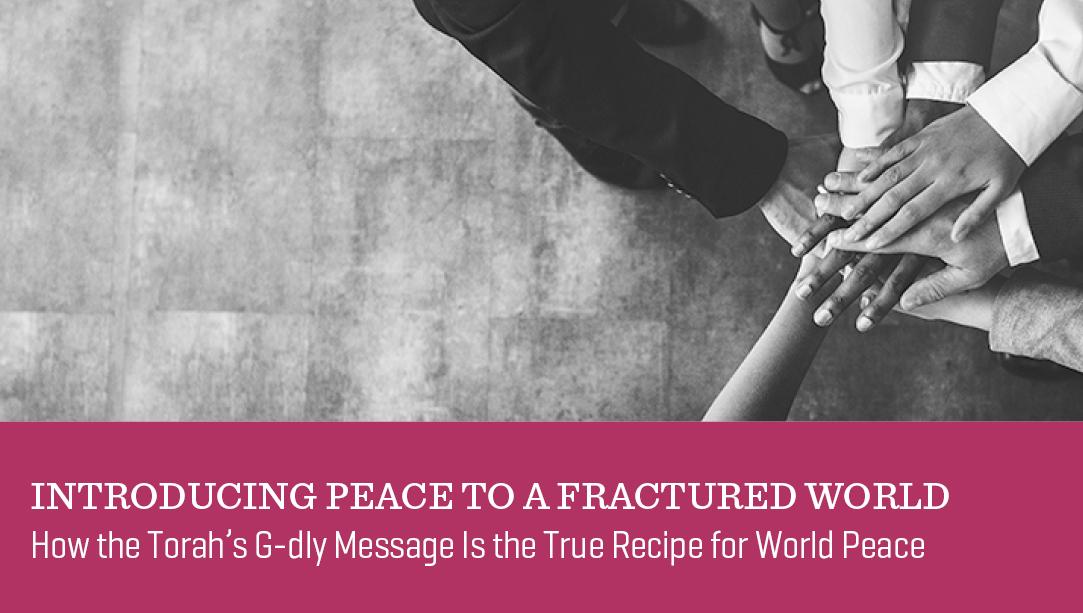 Introducing Peace to a Fractured World
How the Torah's G-dly Message Is the True Recipe for World Peace
If there's anything people have wished for from the proverbial genie in the bottle, it's "world peace." Yet, after thousands of years, it still eludes us. From a technical law about which candle to choose over the other—Shabbat or Chanukah—we emerge with a powerful elixir to cure our fractured world.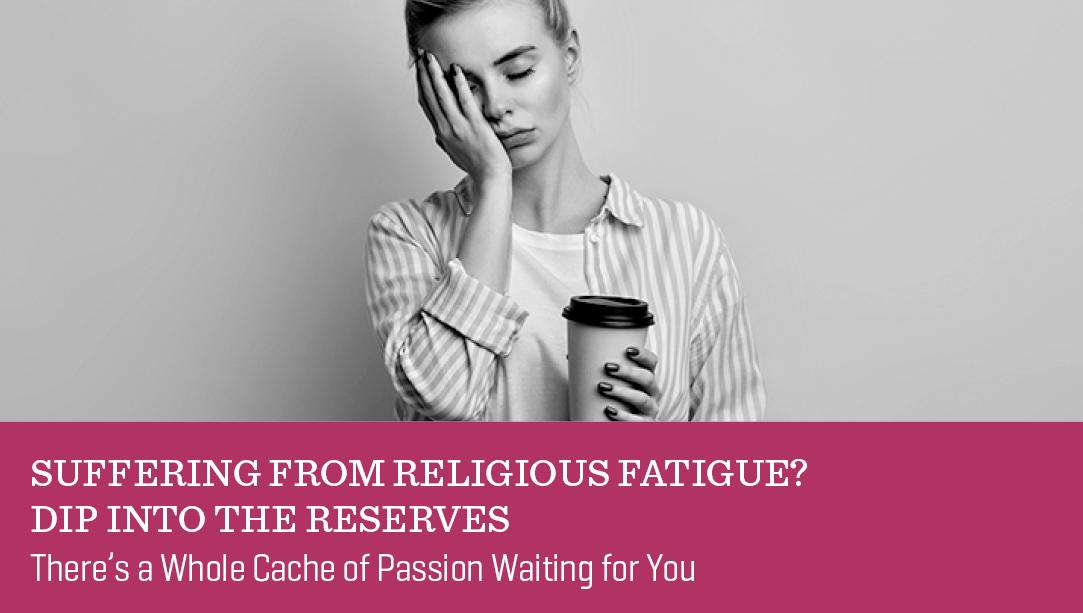 Suffering from Religious Fatigue? Dip into the Reserves
There's a Whole Cache of Passion Waiting for You
Sometimes, you're just listless and tired out. Spirituality, religion, or anything of that sort just isn't talking to you. How do you proceed? Thousands of years ago, Joseph collected money in Egypt and buried it. We're still discovering that stash today—and it can help your fatigue.
Getting the Job Done: Marks of a True Leader
When It Comes to Leadership, Results Matter
Leadership seminars abound, but is there one quality that lies at the core of it all? A study on the contrast between two great leaders—Rueben and Judah—cuts to the heart of the matter: to lead is to know, to care, and to put yourself aside until the job is done.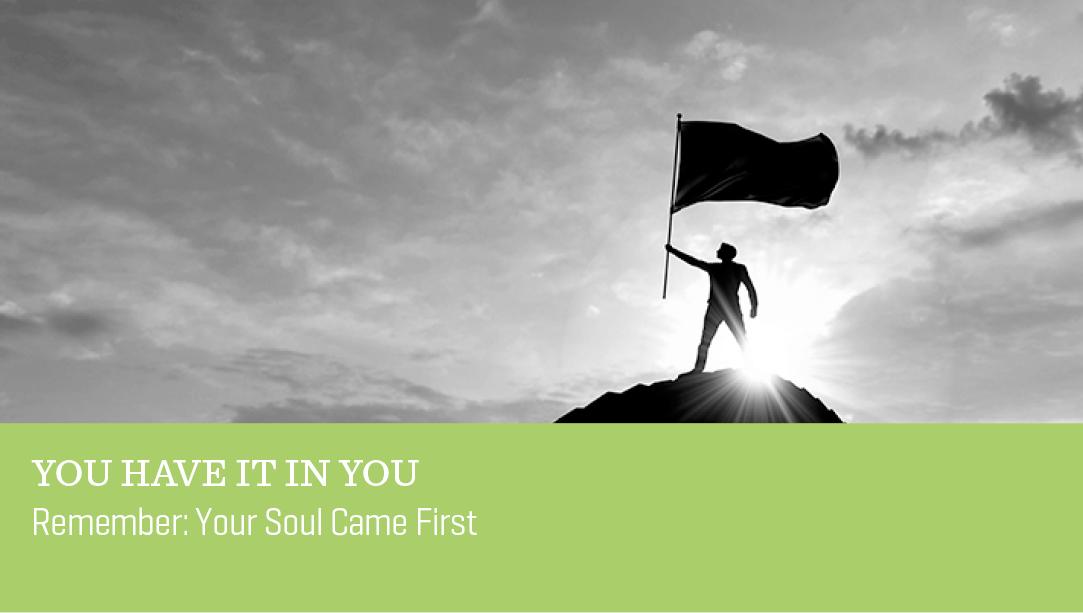 You Have It in You
Remember: Your Soul Came First
"I can't do it, it's too hard, and I don't have what it takes!" Sound familiar? It turns out that the prophet Jeremiah said the same thing to G-d Himself. G-d's answer? A stirring string of verses opening the haftarah imparts the rousing message that your soul came before all the challenges you will ever face, so you have all the firepower you need.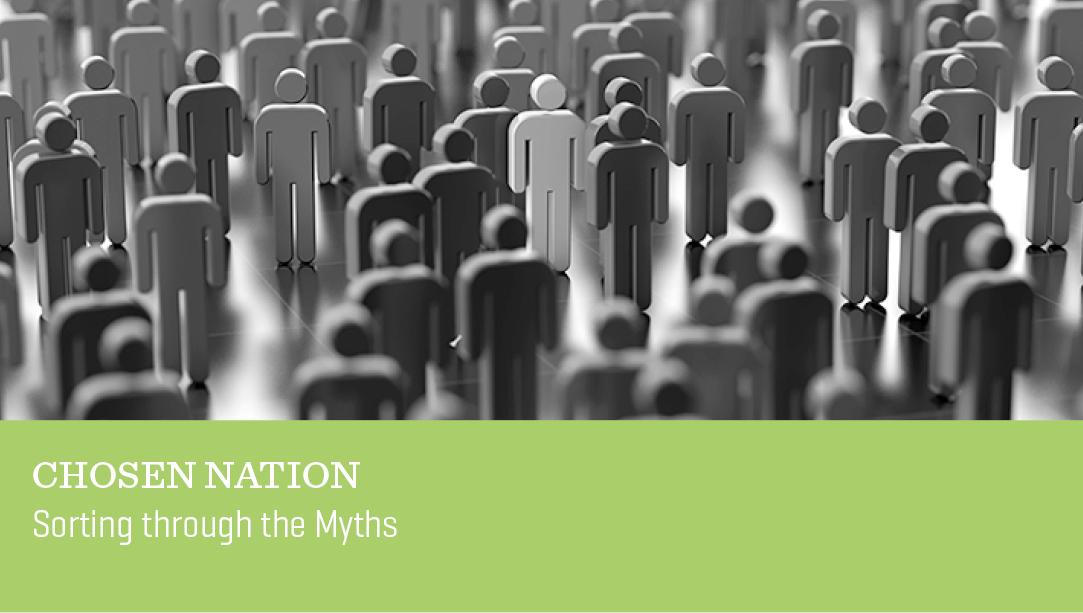 Chosen Nation
Sorting through the Myths
Is it racist to make the claim that we're the "Chosen Nation"? What does that even mean in the first place? A closer look at the Chosen Land (spoiler: Israel) uncovers an edifying take on this much-abused idea. Far from privileged pretentiousness, to be chosen is a responsibility and a demand.
Ivory Tower Meets the Proletariat
Blending Passion with the Prosaic; Holiness with the Everyday
There are always those who are particularly passionate about religion and G-d, and then there's . . . everyone else: just typical people trying to do the right thing and get by. Is that enough? Must we all be passionate and holy? Discover a middle ground that is far from middling.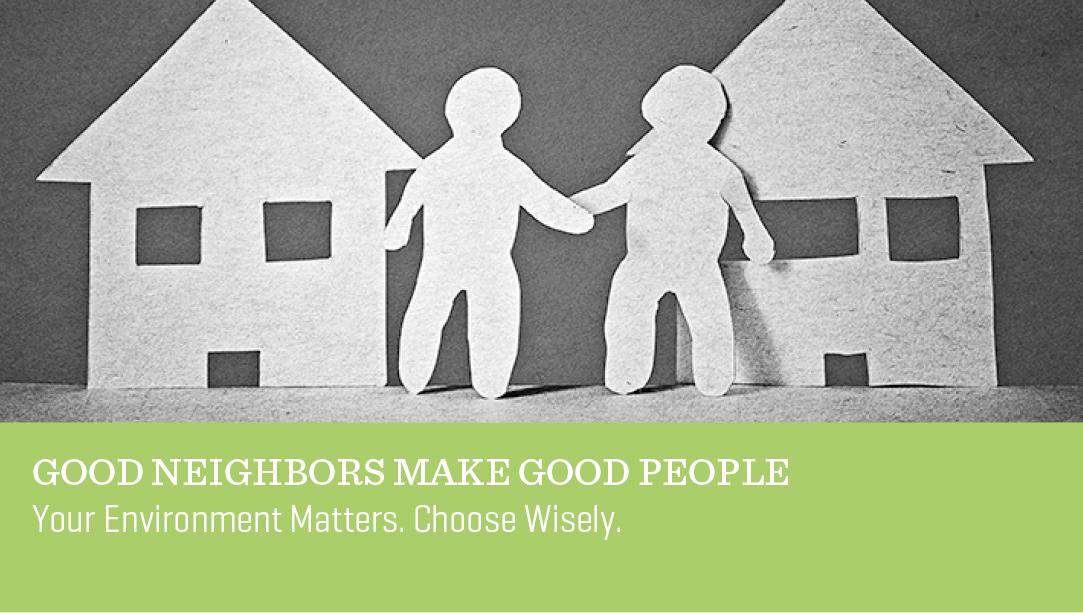 Good Neighbors Make Good People
Your Environment Matters. Choose Wisely.
"Jewish law" is a term often thrown around when talking about Judaism. But what, exactly, makes Jewish law "Jewish" per se? A deep look at the moral underpinnings of Jewish law reveals an important lesson to be culled from a ruling about neighbors: you are greatly impacted by your surroundings. Make the environment you wish to see in this world.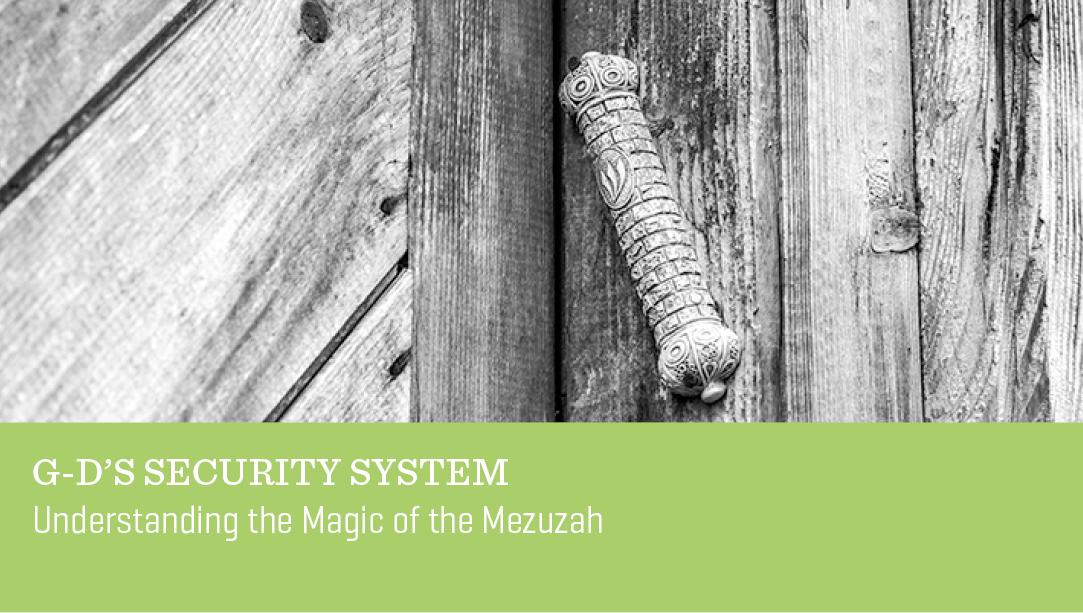 G-d's Security System
Understanding the Magic of the Mezuzah
Throughout the ages, Jews have affixed a small scroll on the doors of their homes, loudly proclaiming to all, "This is a Jewish home." Discover the meaning of this important mitzvah, and just how much you can benefit from the mezuzah's protective quality.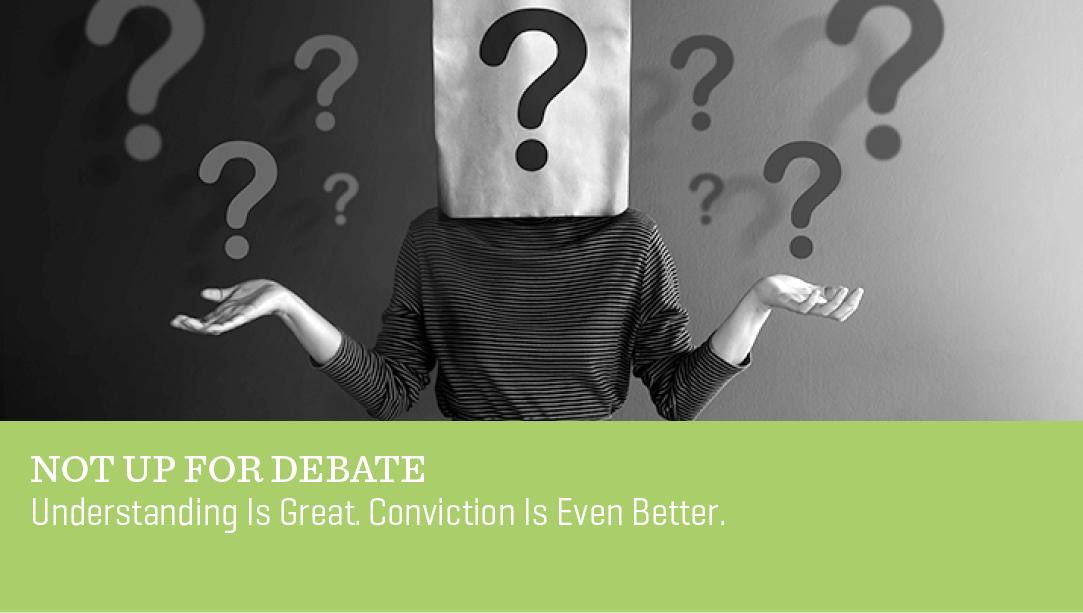 Not up for Debate
Understanding Is Great. Conviction Is Even Better.
A moral compass built on reason alone stands on very shaky ground. No matter how smart and sophisticated you are, it's possible to justify pretty much anything. The trick is to move into a different zone: the power of conviction.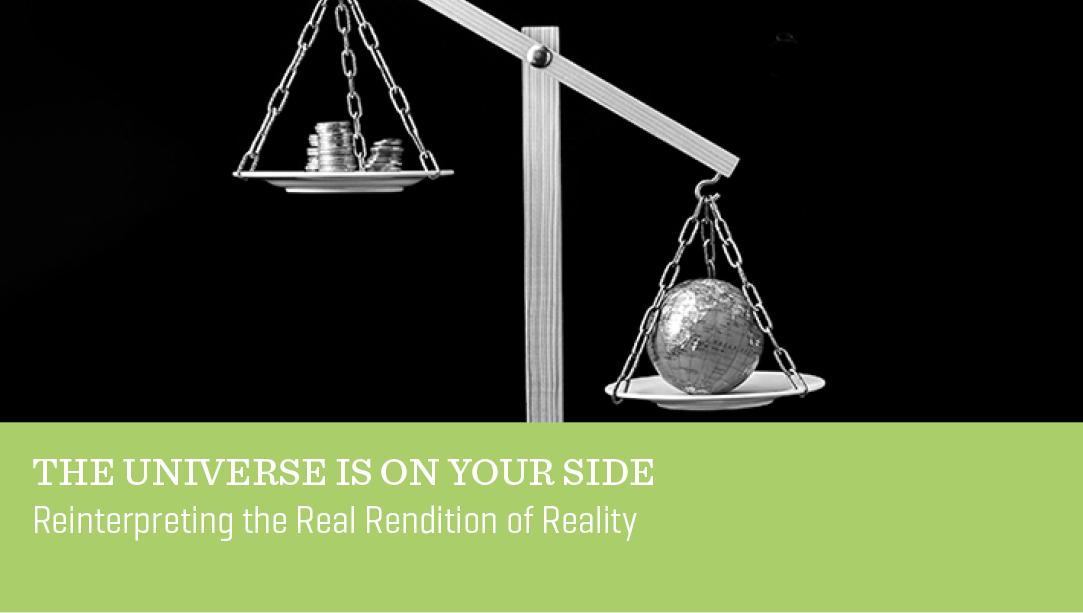 The Universe Is on Your Side
Reinterpreting the Real Rendition of Reality
Witnesseses and testimony typically sound like the stuff of courtrooms and depositions. But a thrilling spin through Jewish law, philosophy, and mysticism yields a surprising conclusion: every Jew is a witness, testifying to a divine reality that puts the universe on the right side of the struggle between good and bad.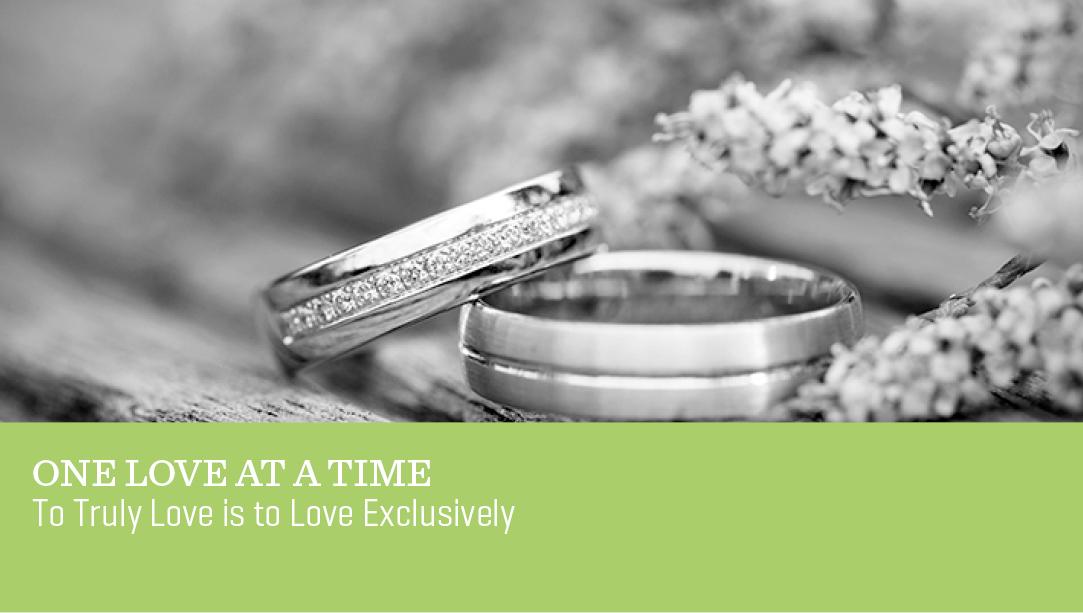 One Love at a Time
To Truly Love is to Love Exclusively
The Jewish wedding ceremony is hallowed and joyous. Arguably its most iconic feature is the ring slipped on the glowing bride's finger. What is the symbolism of this ancient ritual? A surprising legal journey brings us to the inalienable truth that to truly love is to let go of any past loves, for the heart can only be wide open to one when it is closed off from all others.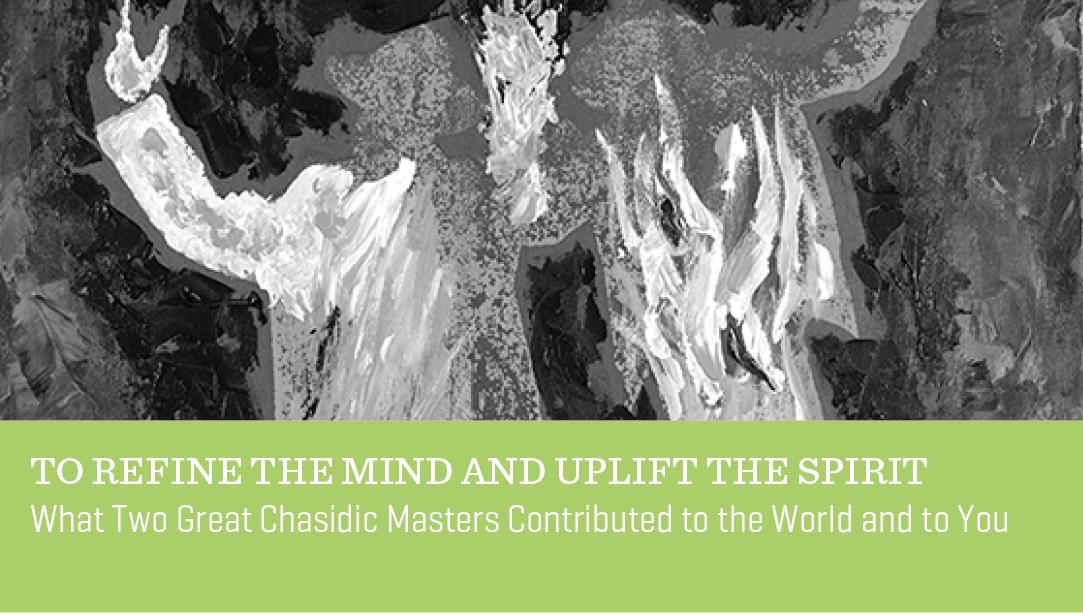 To Refine the Mind and Uplift the Spirit
What Two Great Chasidic Masters Contributed to the World and to You
Chasidism, its leaders, and its masters are the subject of much fascination. But what really lies at the heart of this movement, and how does it really enrich your daily life? The shared birthday of two of the greatest Chasidic masters to ever live opens a window into the depth and wonder of a revolution that can change your life.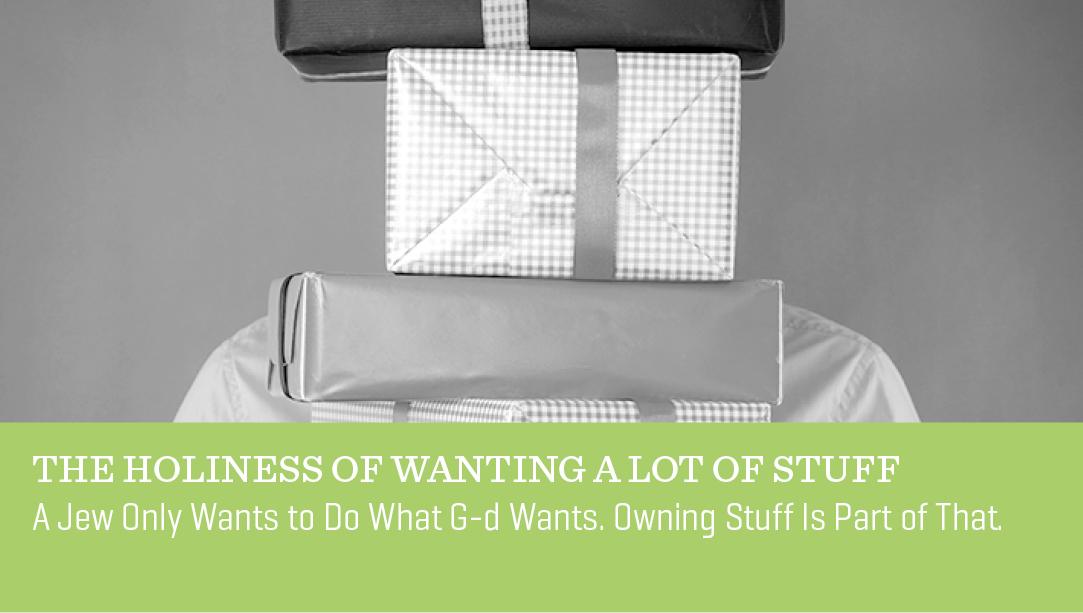 The Holiness of Wanting a Lot of Stuff
A Jew Only Wants to Do What G-d Wants. Owning Stuff Is Part of That.
The High Holidays are awe-inspiring for everyone. Packed into the synagogue, we spend time praying and connecting with G-d. But what do we ask for? Stuff. "Give me this, grant me that. . . ." And it goes on. Is that the best way to spend such a holy time? Asking for stuff? You bet! Discover the real reason why you want anything. It may surprise you.
When a Parent Loves Their Child
Forgiveness Is Never All or Nothing
It's that time of the year again: the time to fix past wrongdoings and right our ship, going forward. But what if you're just not ready to fix it all? Is it OK to feel bad, say, like halfway? Instead of complete overhaul, is just small incremental change acceptable? Rabbi Akiva shares his edifying answer.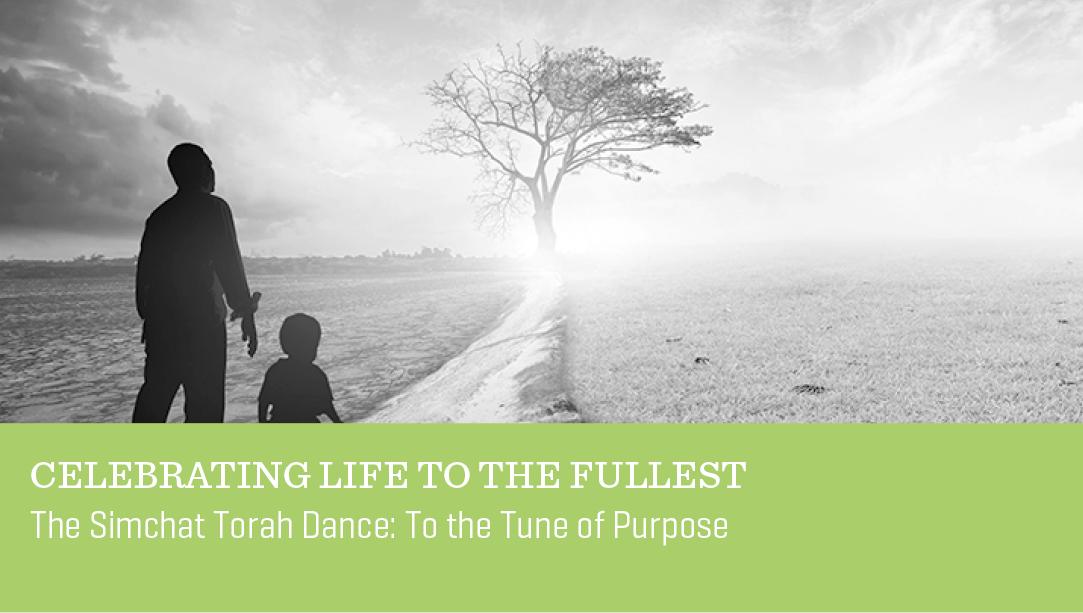 Celebrating Life to the Fullest
The Simchat Torah Dance: To the Tune of Purpose
Simchat Torah is a holiday famous for dancing and raucous joy. But is this the appropriate way to celebrate the Torah? Discover the true joy of completing the entire Torah reading cycle. It's not so much about what you have learned, but about the type of life it enables you to lead.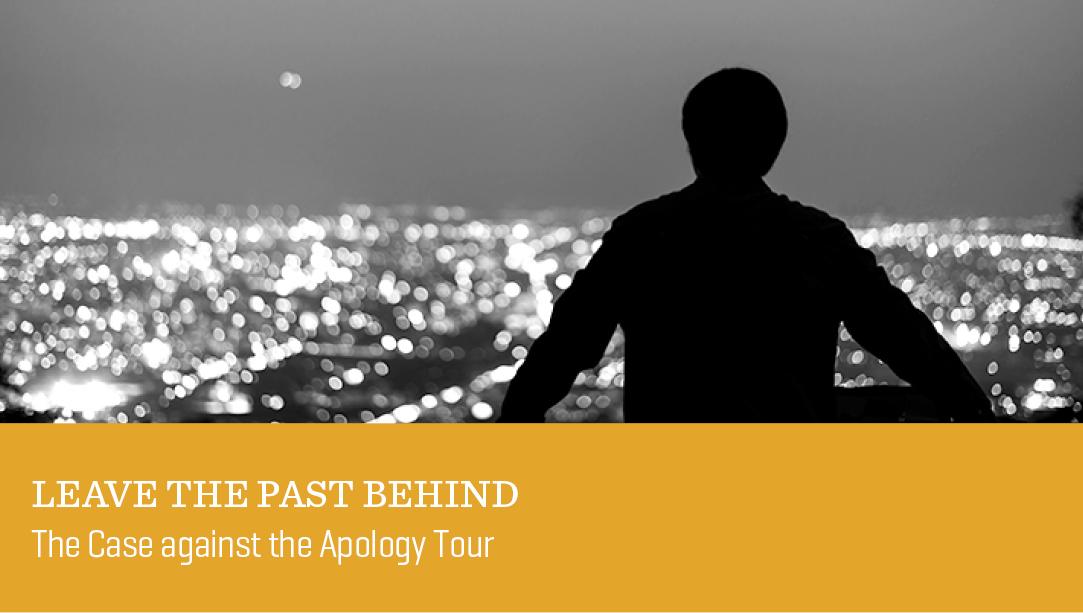 Leave the Past Behind
The Case against the Apology Tour
You did something wrong. Of that, you're sure. Does that mean you must forever publicly beat your chest to be accepted in polite society? A closer look at the High Priest's confession on Yom Kippur tells an empowering story about how we ought to look at our past—and our future.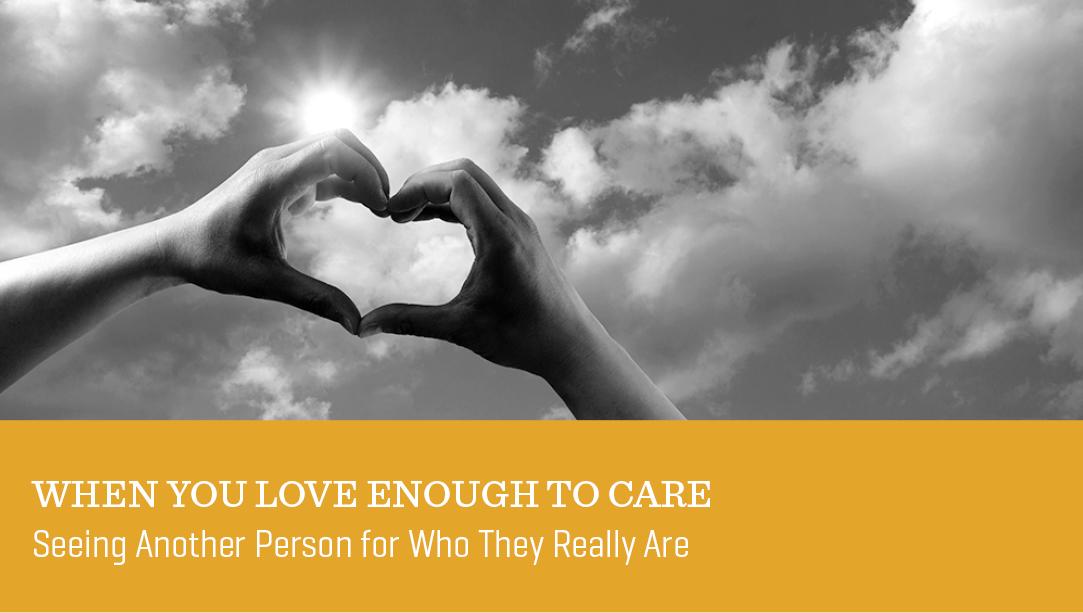 When You Love Enough to Care
Seeing Another Person for Who They Really Are
When you love them, you love them, that's it. But what happens when you don't? There's no love switch, is there? A deep look into the soul of another Jew and what she really wants reveals that yes, indeed there is.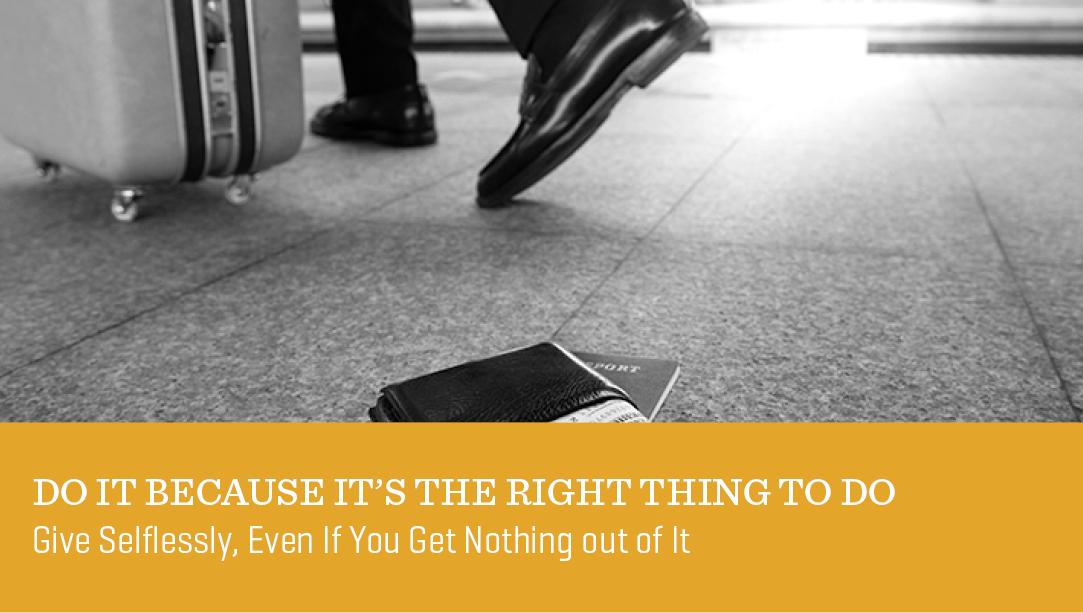 Do It Because It's The Right Thing to Do
Give Selflessly, Even If You Get Nothing out of It
Suppose you accidentally left a twenty-dollar bill outside and only after the fact you realized that someone who really needed it found it and bought lunch. Do you deserve any credit? From an awkwardly placed verse in a discussion about sacrifices we learn that yes, such a donation may just be the most noble of all.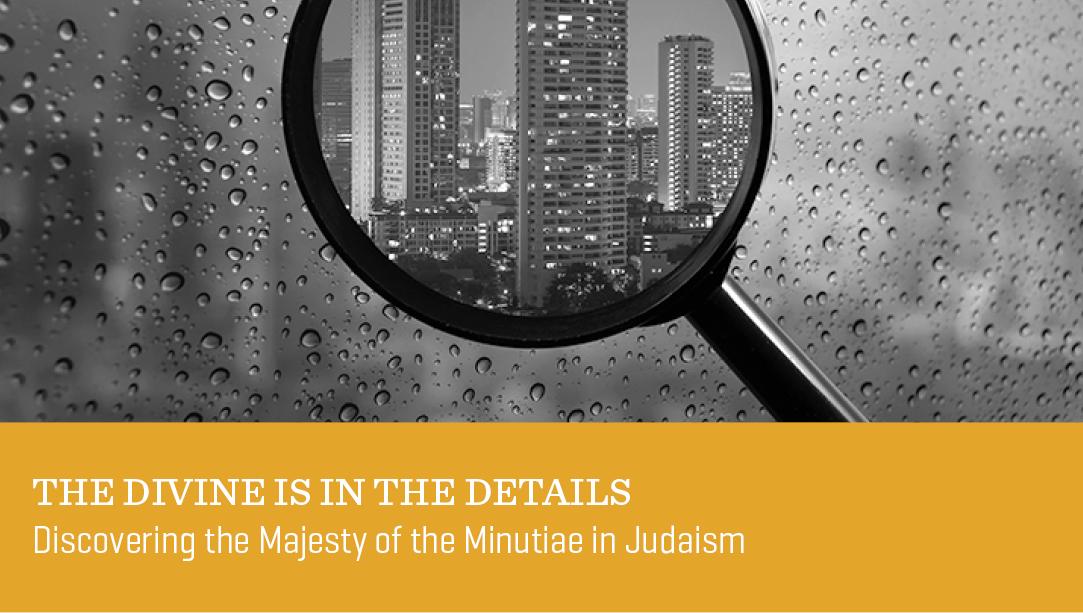 The Divine Is in the Details
Discovering the Majesty of the Minutiae in Judaism
Do it this way. Not larger than an ounce, not smaller than the size of your fist. Check for the kosher symbol, and make sure you eat before this time and make Kiddush after that time. Judaism is hyper-detail-oriented, and some find it more devilish than divine. But that's a simple misunderstanding of just how great a mitzvah really is.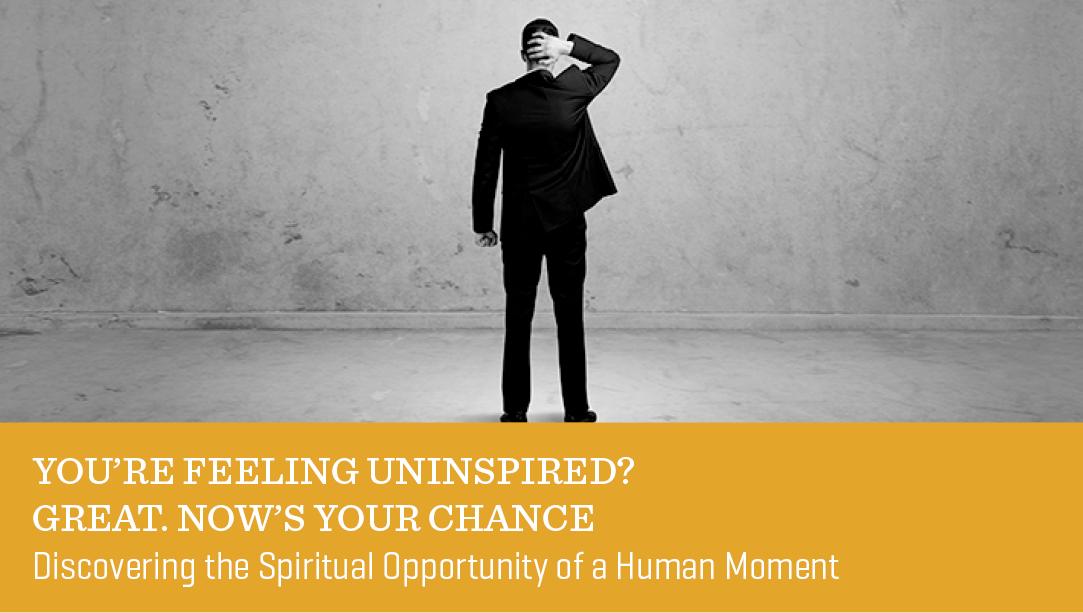 You're Feeling Uninspired? Great. Now's Your Chance
Discovering the Spiritual Opportunity of a Human Moment
When things are clicking and you're feeling inspired, well, it's just great. But here's the problem: that's not reality. Life is messy, challenging, and often leaves you exhausted and uninspired. What to do then? It is precisely then that you have a real chance to finally do what G-d always wanted you—and the entire world—to do.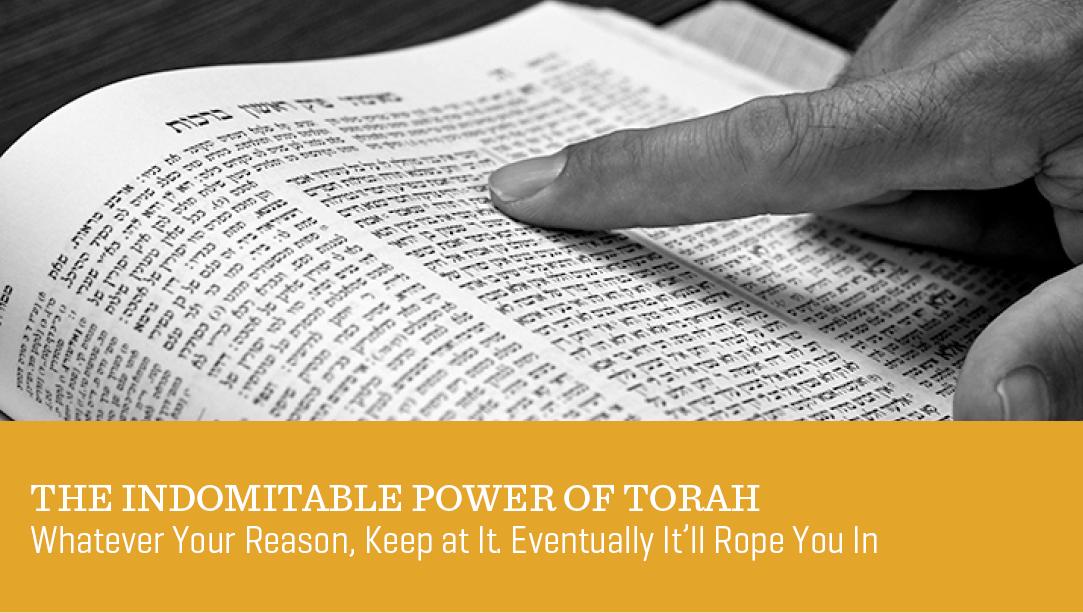 The Indomitable Power of Torah
Whatever Your Reason, Keep at It. Eventually It'll Rope You In
Conventional wisdom would say that if you're studying something for the wrong reasons, you shouldn't study it at all. But that's not what the Torah says. And that's because there's a unique dynamic at play: the Torah is G-d's wisdom; eventually, it'll awaken something inside of you.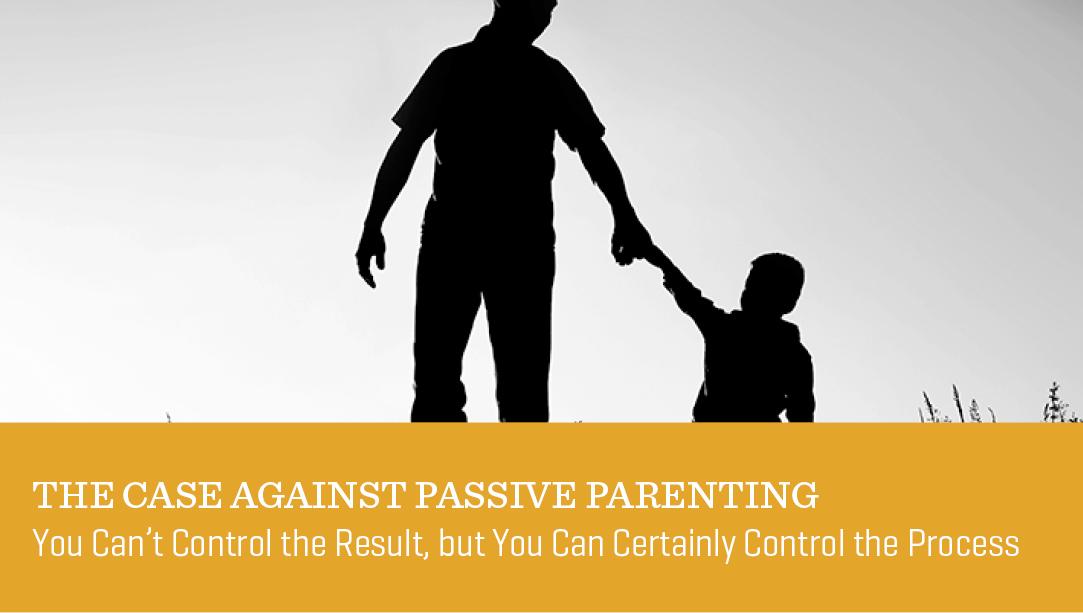 The Case against Passive Parenting
You Can't Control the Result, but You Can Certainly Control the Process
In one the Bible's most rousing stories, a weeping childless woman makes a solemn vow to consecrate her son to G-d, should she be so blessed. The woman is Chanah, and the son the prophet Samuel. From what would appear to be a dubiously legal move, we learn that parents must do their utmost to guide their children along the proper path.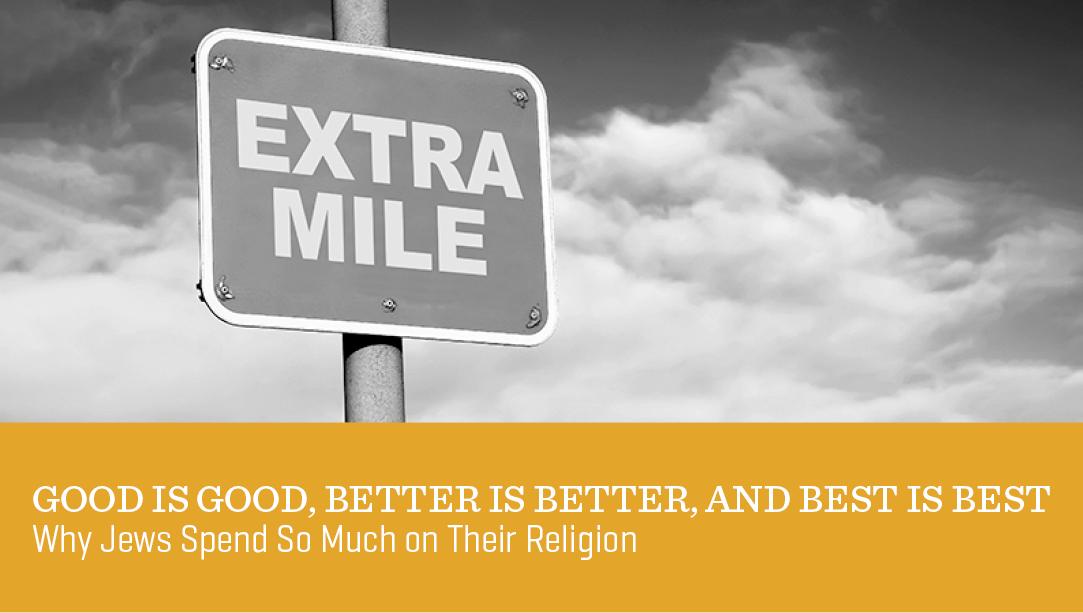 Good Is Good, Better Is Better, and Best Is Best
Why Jews Spend So Much on Their Religion
Jews do Judaism with grandeur. Thousands on an etrog, fine china for Shabbat dinner, and gilded synagogues that match the finest architecture anywhere. But why? Because we understand that when it comes to our relationship with G-d, only the best will do. Anything less may not be lacking, but it is wanting—and we'll have none of that.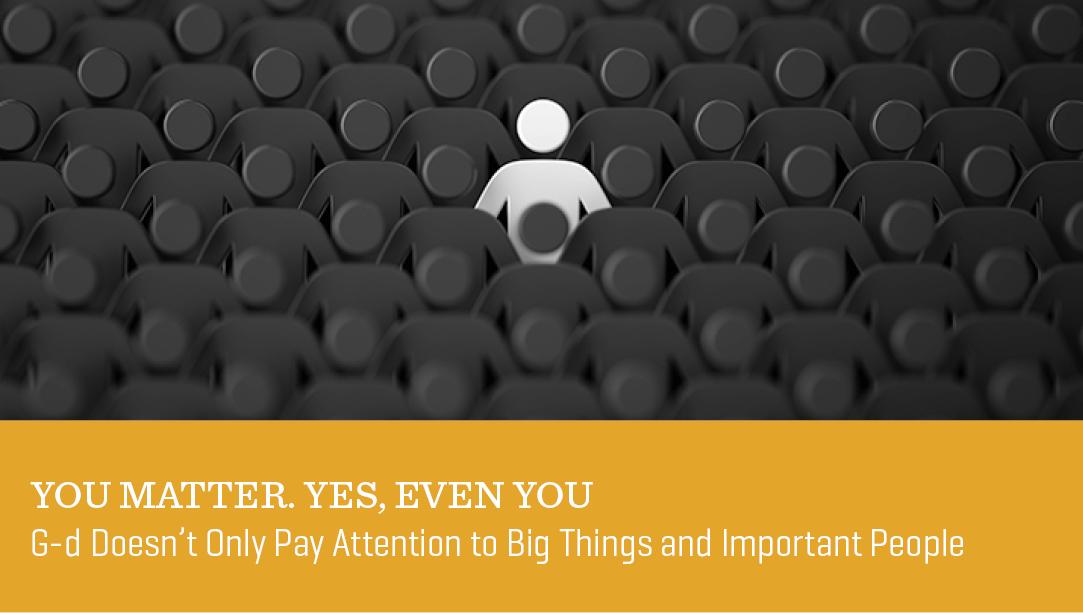 You Matter. Yes, Even You
G-d Doesn't Only Pay Attention to Big Things and Important People
"Omnipresent" is a word thrown around as a name for G-d, which is a fancy way of saying, "He's everywhere and always paying attention." It's a great name: G-d really is paying attention to everything He created, and He cares very much about what they do—including you.
Different, Yet Equal
"We're All the Same!" Is Tempting. It's Also Premature
Korach's rebellion that saw him yelling, "We're all equal, why do you, Moses, get the fancy title?!" can be mistaken for a romantic everyman's struggle. In a way, Korach really was on to something, but ultimately, he was mistaken. Walk the tightrope of "different but equal" through the lenses of our nation's first uprising of the proletariat.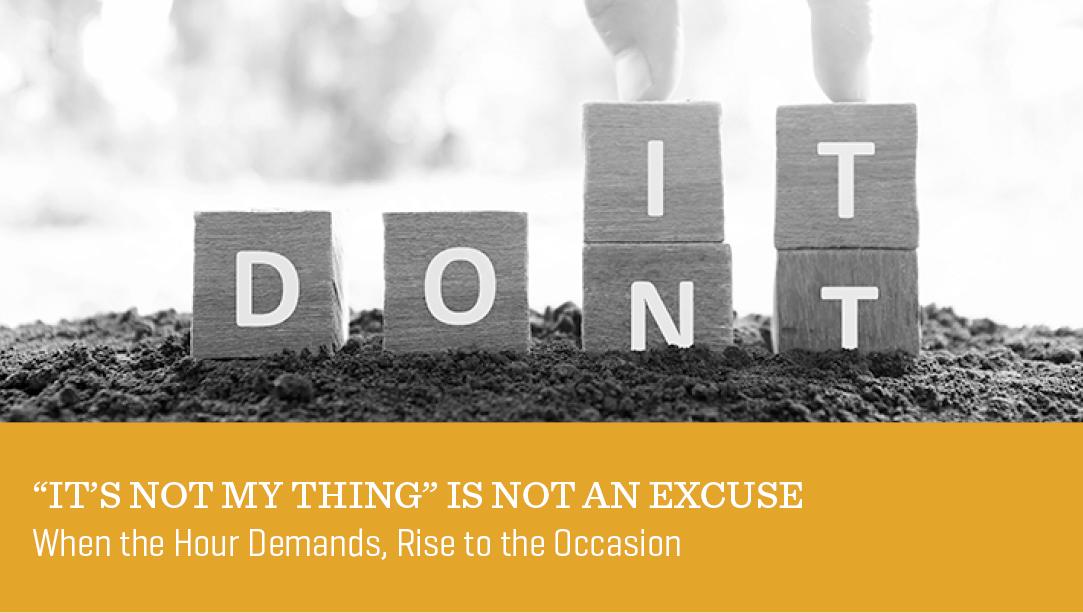 "It's Not My Thing" Is Not an Excuse
When the Hour Demands, Rise to the Occasion
We all have our comfort zones. You're forgiven for wanting to stay there. But remember this: If you do, you will never grow. Worse yet, when someone else needs you, they'll receive no answer. A curious plot twist in an ancient desert story with clouds of glory and heavenly mann calls us to get uncomfortable and be there for someone else—even if it's not "your thing."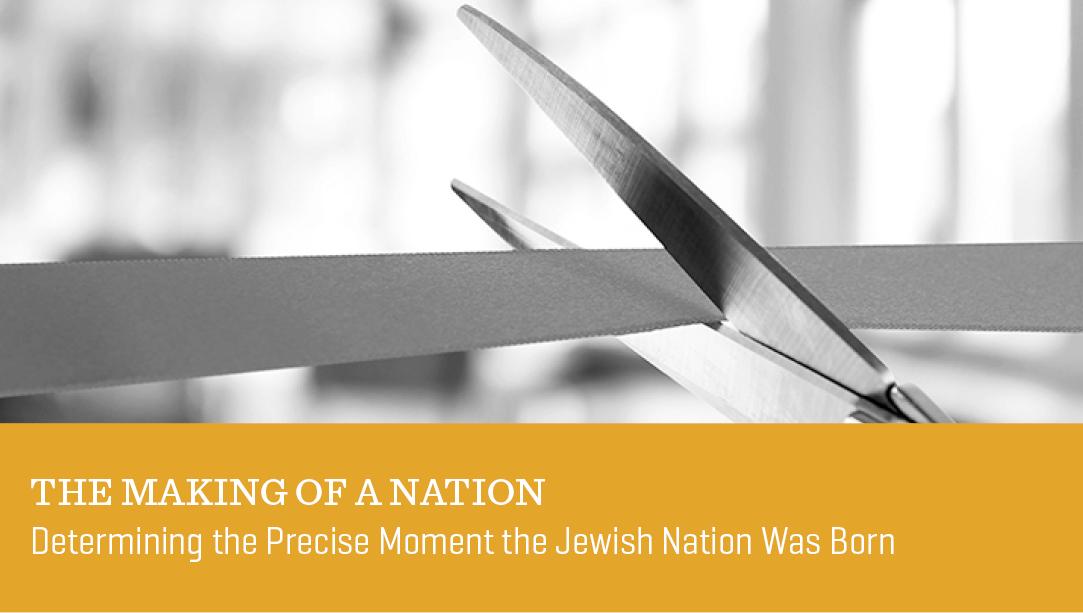 The Making of a Nation
Determining the Precise Moment the Jewish Nation Was Born
Avraham was the first Jew, right? But wait. What about the events at Mount Sinai, when everyone received the Torah: Wasn't that the moment of nationhood? Come to think of it, were the Jewish people not born at the Exodus from Egypt? An enthralling roller-coaster ride through the literature explores this important question.
The Real Reality
When Keeping Your Commitments Gets Rough, Remember What's Real
In days of old, the Jewish calendar was determined by the High Court based on the sighting of a new moon. In a radical and extremely counterintuitive law, we read that the court had the power to proclaim a new month even when the moon wasn't yet seen; in other words, the courts could dictate reality. Discover how you, too, can dictate the "real" reality.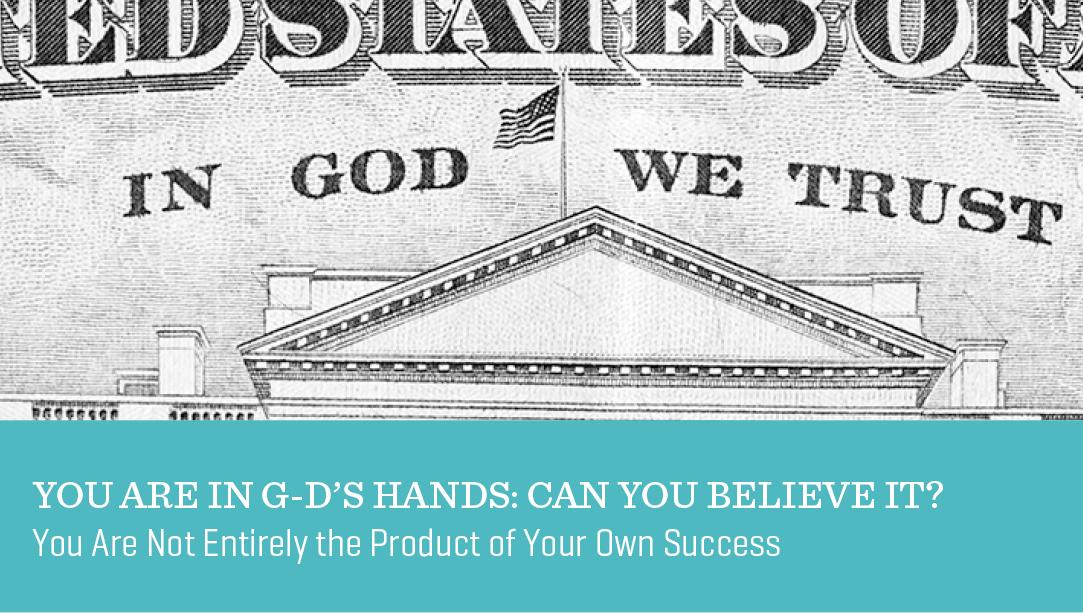 You Are in G-d's Hands: Can You Believe It?
You Are Not Entirely the Product of Your Own Success
Who doesn't worry about finances? In an ever-changing economy with so much uncertainty, even those with "stable" jobs are being forced to reckon with a queasy sense of worry. By looking to our ancestors who harvested miraculous manna in the desert, we can find much-needed stability: trust in G-d.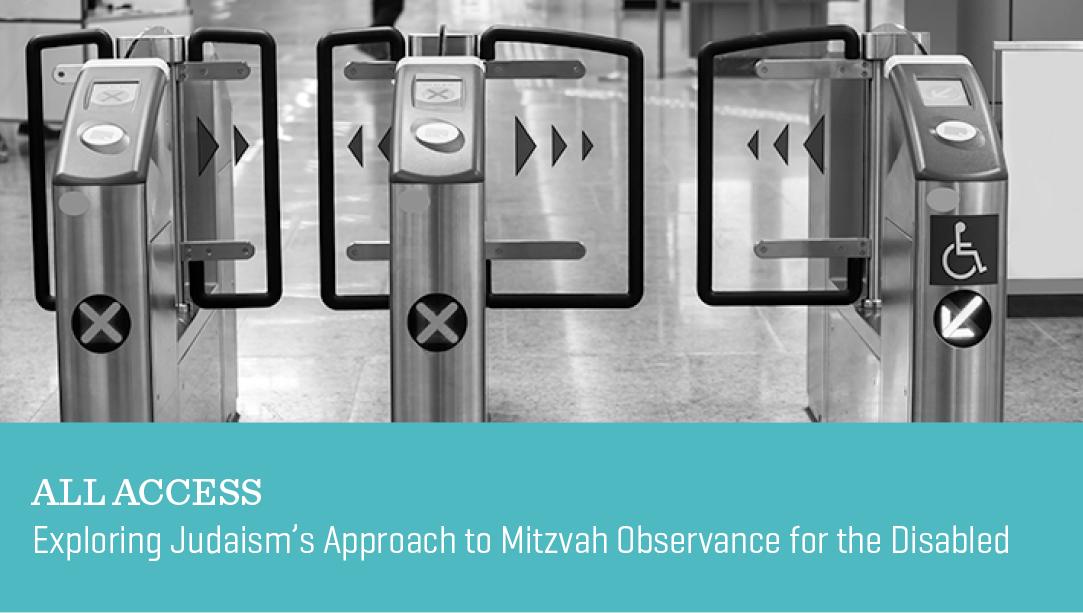 All Access
Exploring Judaism's Approach to Mitzvah Observance for the Disabled
Judaism is rich with values, teachings, and . . . practices. Many don't even think about their physical ability to fulfill those practices, but what about those who physically cannot? Is the mitzvah of tefilin not for someone without an arm? Is someone with impaired hearing denied access to the beauty of the shofar on Rosh Hashanah? Of course not! Discover how.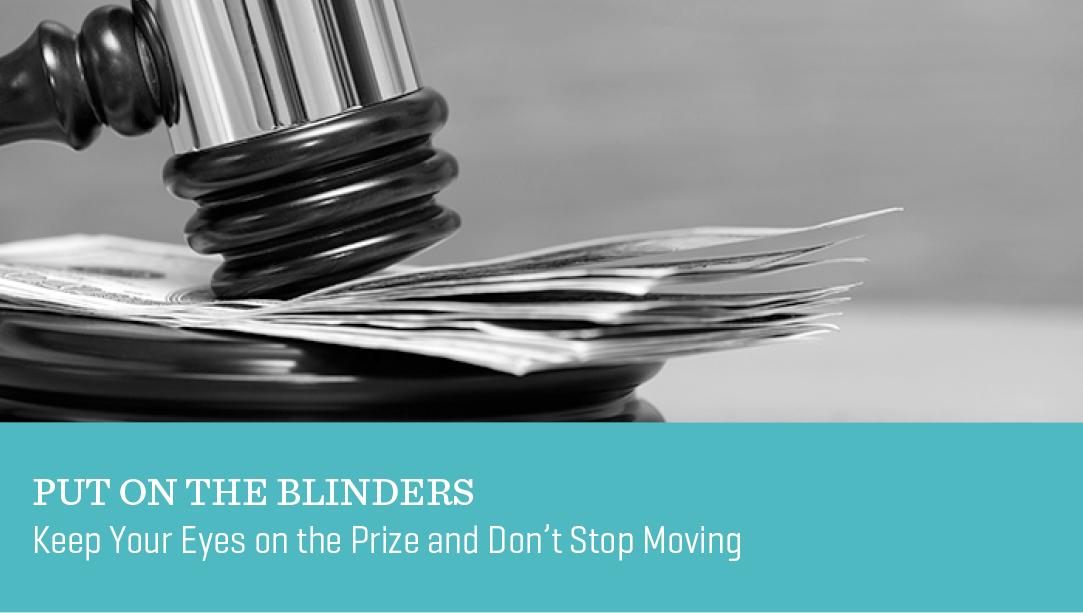 Put on the Blinders
Keep Your Eyes on the Prize and Don't Stop Moving
A dry, legal, and highly technical clause of Jewish finance law is picked apart in a psychological/religious analysis. We emerge with powerful lessons for maintaining the sense of dignity and perseverance we need to power through our intended mission in life.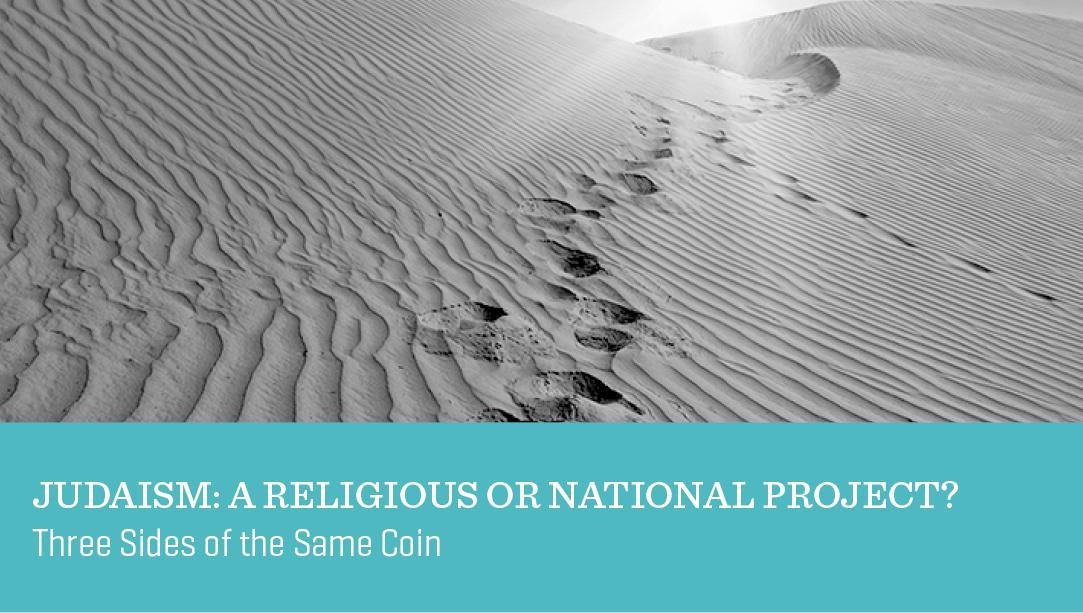 Judaism: A Religious or National Project?
Three Sides of the Same Coin
There's much chatter on this question. Throw in the mix the many other possibilities of what "Judaism" may or may not be. So, what is it, after all? The story of the nascent Jewish nation emerging from Egypt, entering the Holy Land, and finally building a Temple for G-d has some answers.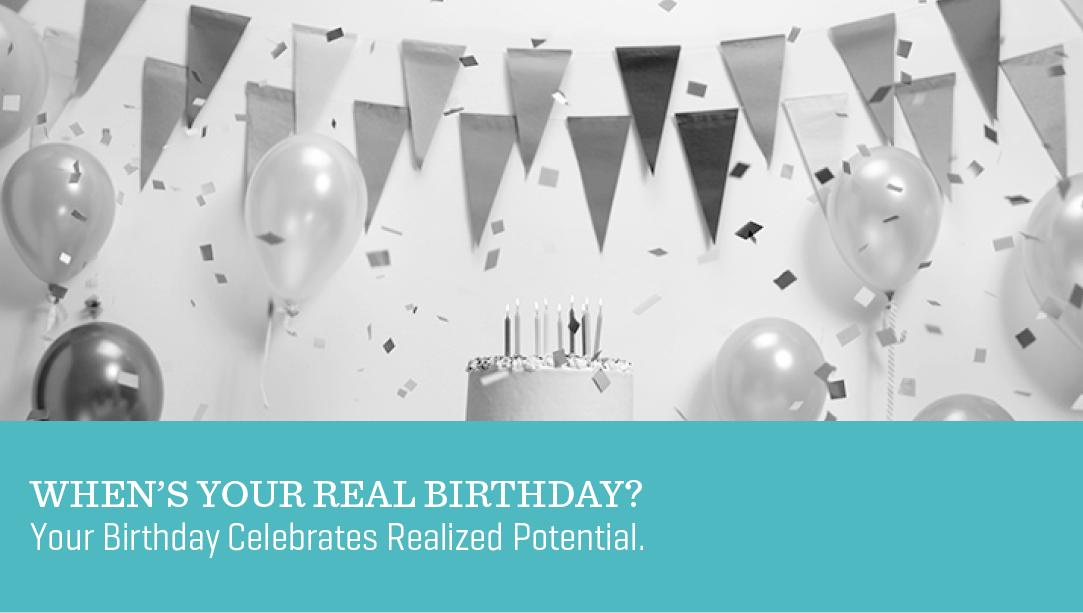 When's Your REAL Birthday?
Your Birthday Celebrates Realized Potential. Go Ahead and Realize Even More
People love celebrating; yahrtzeits not so much. Surprisingly, while the birthday and yahrtzeit of our first leader, Moshe, occurred on the same date, it is technically only his passing that is commemorated. Why? Because your true birthday is more about what you've done than about what you can do.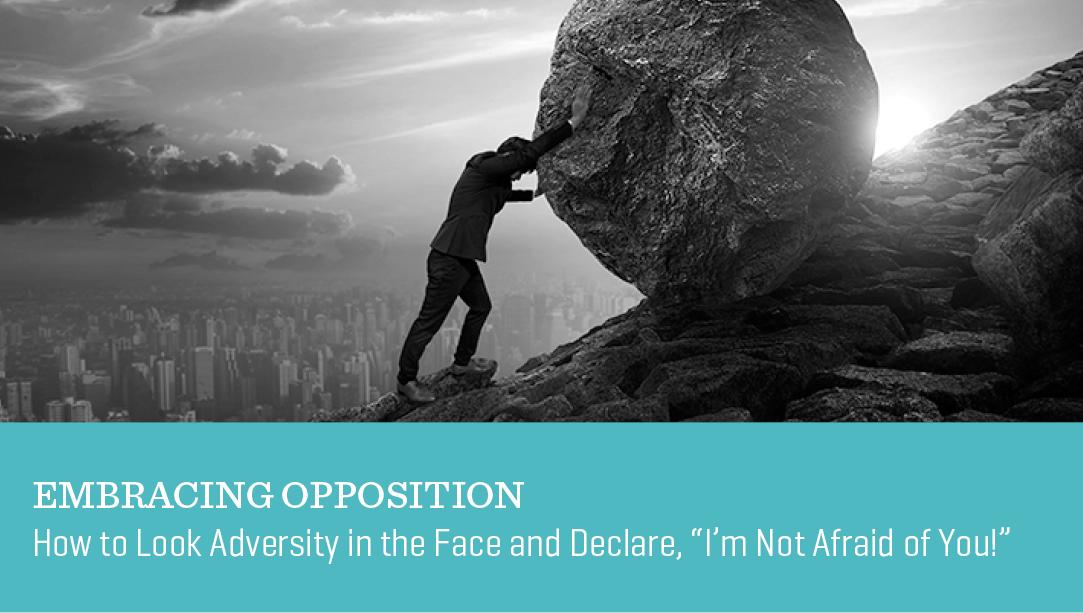 Embracing Opposition
How to Look Adversity in the Face and Declare, "I'm Not Afraid of You!"
Are you experiencing any opposition lately? Are things just not working out? What do you tell yourself to power through? From the tragic story of the Jews sinning with the Golden Calf to a fascinating tale about a bull talking to Elijah the prophet, widen and deepen your perspective to embrace those challenges and emerge all the better.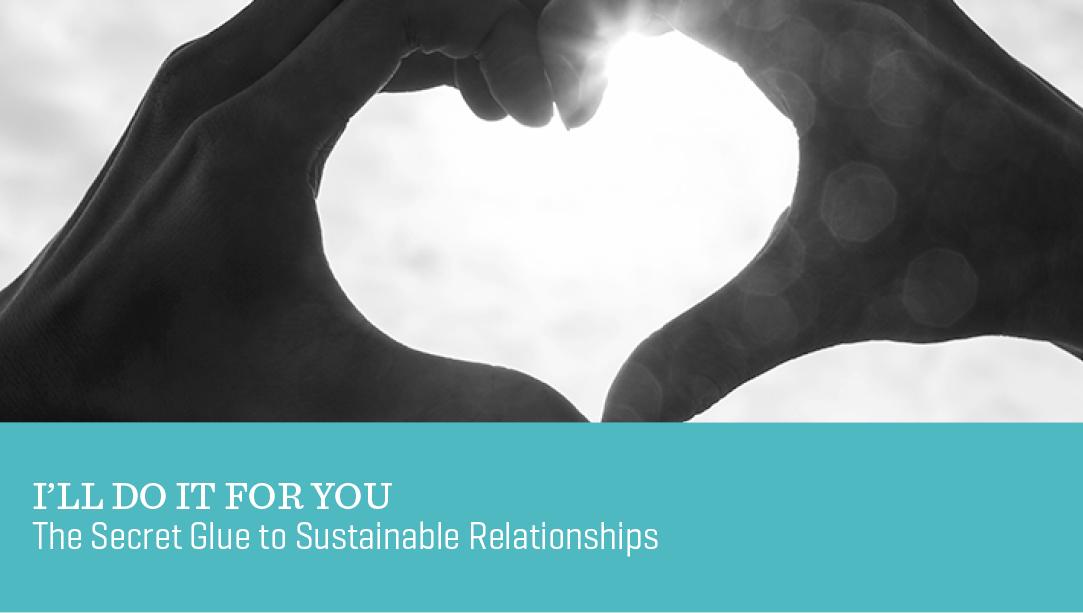 I'll do It For You
The Secret Glue to Sustainable Relationships
What, really is the secret to long-lasting and committed relationships? All human relationships are but a mirror of our relationship with G-d, and so, we arrive at this simple conclusion: when you're doing it for each other, and not so much with each other, that's when you know your connection has lasting power.
There's a Temple Inside of You. Go Ahead and Find It
Discovering the Meaning of the Deepest Parts of Your Soul
The Temple and its predecessor, the Tabernacle, hold a very prominent place in Judaism. But they were destroyed millennia ago. What relevance do they have today? A fascinating story of a stubborn sage, who refused to budge until he received an answer from G-d, furnishes the answer.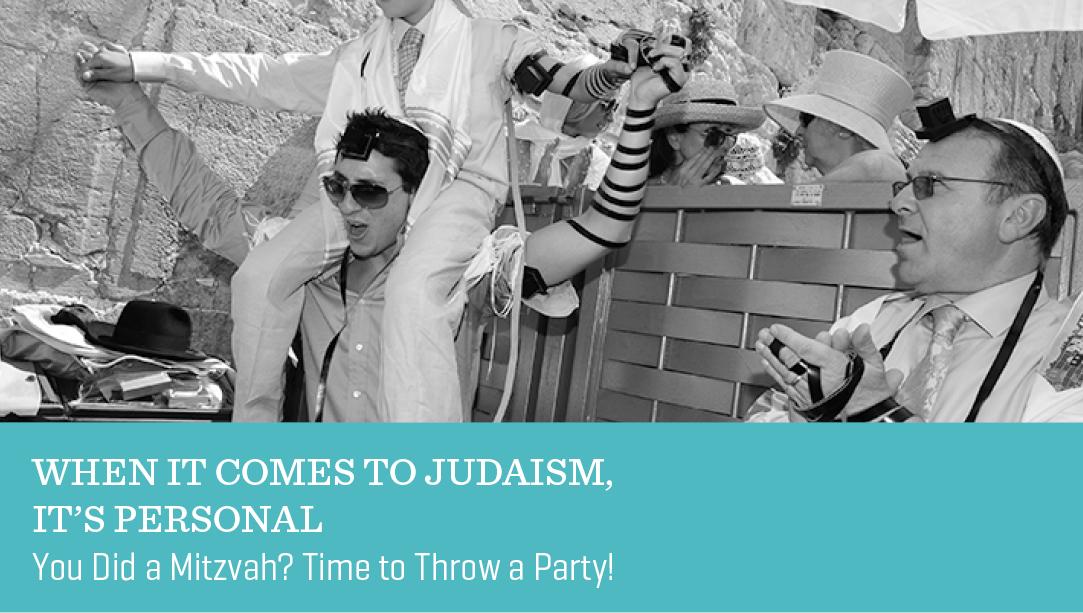 When It Comes to Judaism, It's Personal
You Did a Mitzvah? Time to Throw a Party!
Some throw parties when they graduate college, others for a promotion, while others for their birthday. But when was the last time you attended a party that celebrated, say, finishing a Torah study course, or a year of lighting Shabbat candles? An obscure celebration of wood donations in the Temple by a select few families shows the way.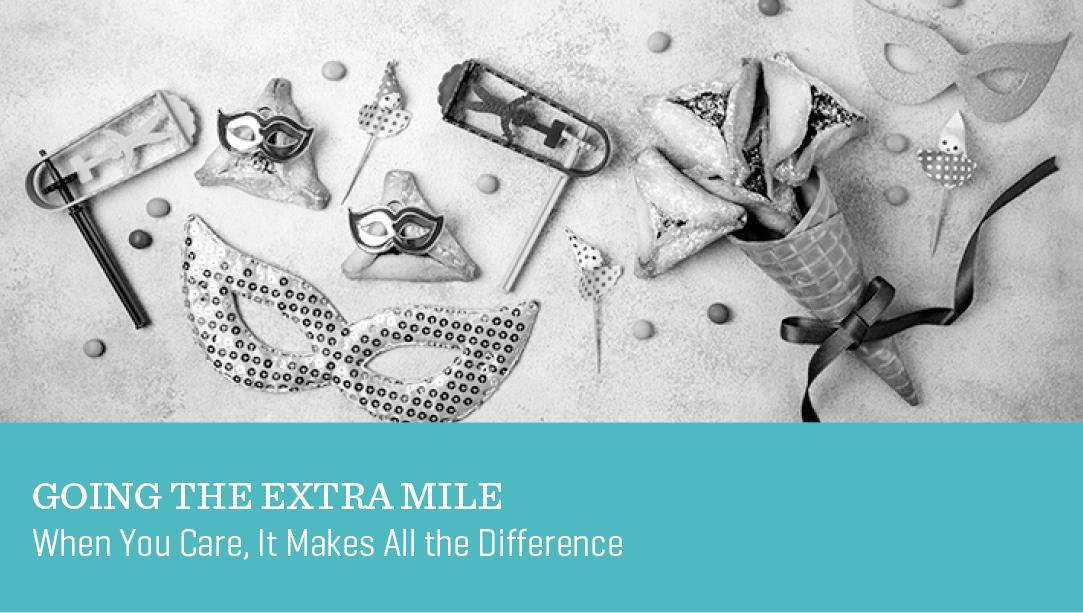 Going the Extra Mile
When You Care, It Makes All the Difference
No one likes being forced into doing things, and when we are, the results are always a bit lackluster. As this class reveals, the Purim story brings the Jewish story full circle, exposing just how important it is to not only do what you must, but to really care about it, too.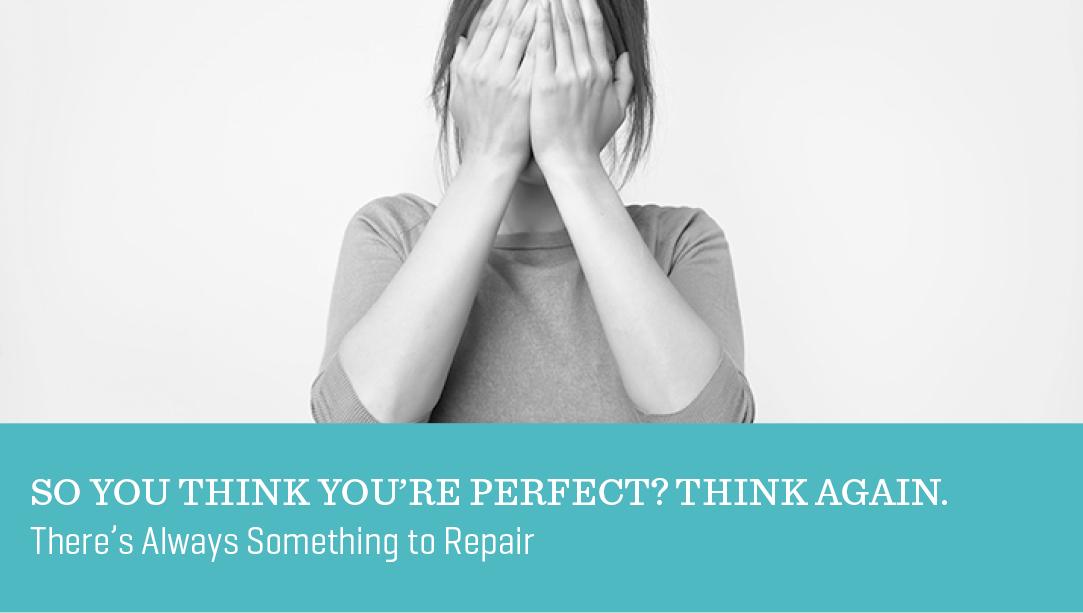 So You Think You're Perfect? Think Again.
There's Always Something to Repair
Apologizing and acknowledging our own shortcomings is always hard, and if we're honest with ourselves, sometimes we're just not willing to go through the pain of that acknowledgment. The always-available purification ashes in the Temple tell a very different story—one of empowerment and positivity.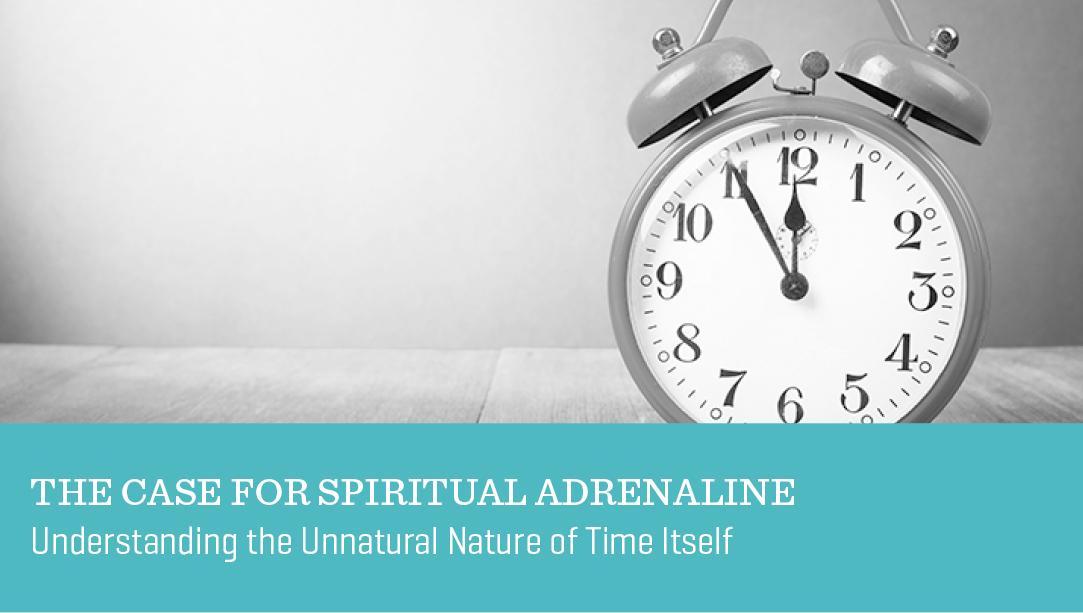 The Case for Spiritual Adrenaline
Understanding the Unnatural Nature of Time Itself
Rosh Hashanah is in the autumn, right? Well, sort of. There's a case to be made for the month of Nissan, just before Passover, being considered the "beginning of the year." What's the point of this alternate beginning? It's about mapping an unnatural and miraculous way of being onto the very course of time itself. Surprisingly, for a Jew, it's a happy partnership.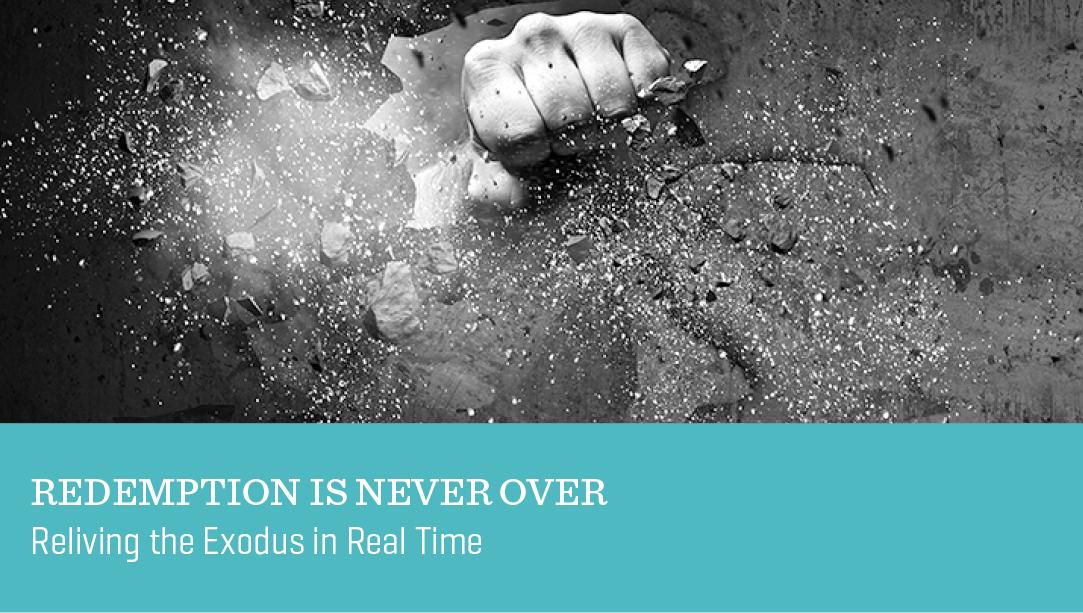 Redemption Is Never Over
Reliving the Exodus in Real Time
Family and friends gather around the seder table, and once again, we do the same thing we've been doing for millennia. Is there anything interesting or personal about this ritual that can elevate it to stardom? A closer look at the language used in the Haggadah exposes the secret of the Exodus: It never really finished. It's waiting for you.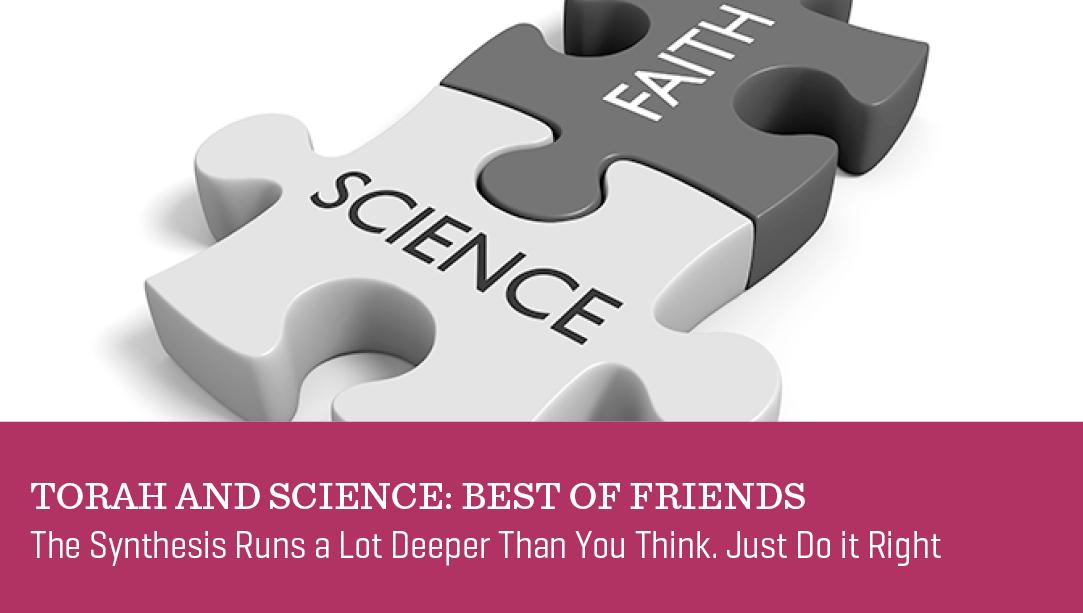 Torah and Science: Best of Friends
The Synthesis Runs a Lot Deeper Than You Think. Just Do it Right
Many have grappled with the apparently irreconcilable differences between religion and science; "Religion is the domain of faith; science, that of reason," is a common attitude. A new read of when G-d disrupts a grand feat of modern engineering teaches a refreshing approach.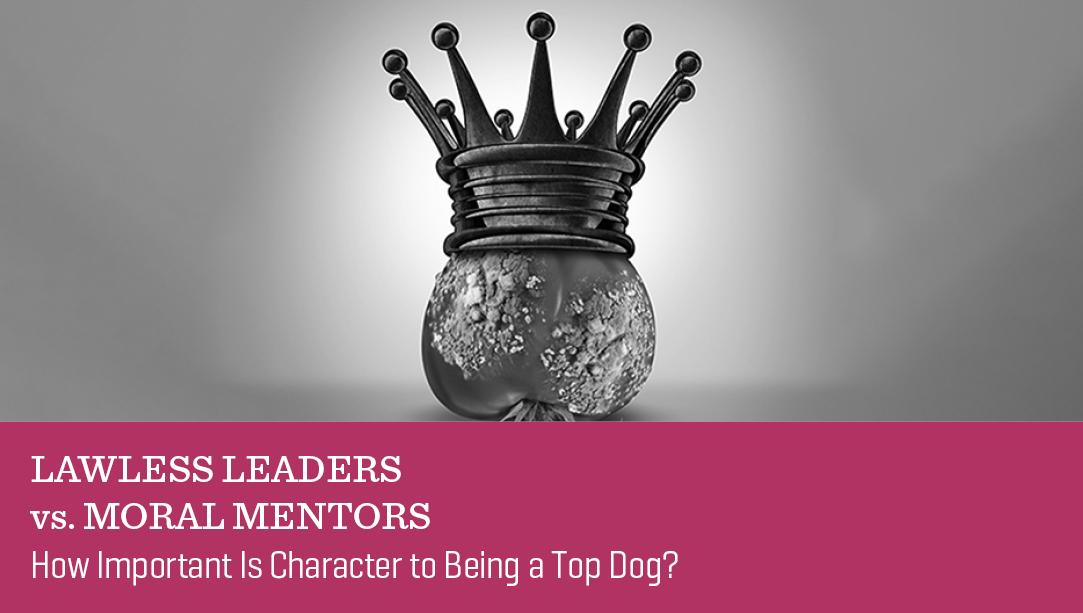 Lawless Leaders vs. Moral Mentors
How Important Is Character to Being a Top Dog?
When a leader's star begins to rise, people tend to scrutinize their character. But how important are their personal morals anyway? After all, the main thing is getting the job done, right? The lengthy narrative of Abraham's life story clues us in.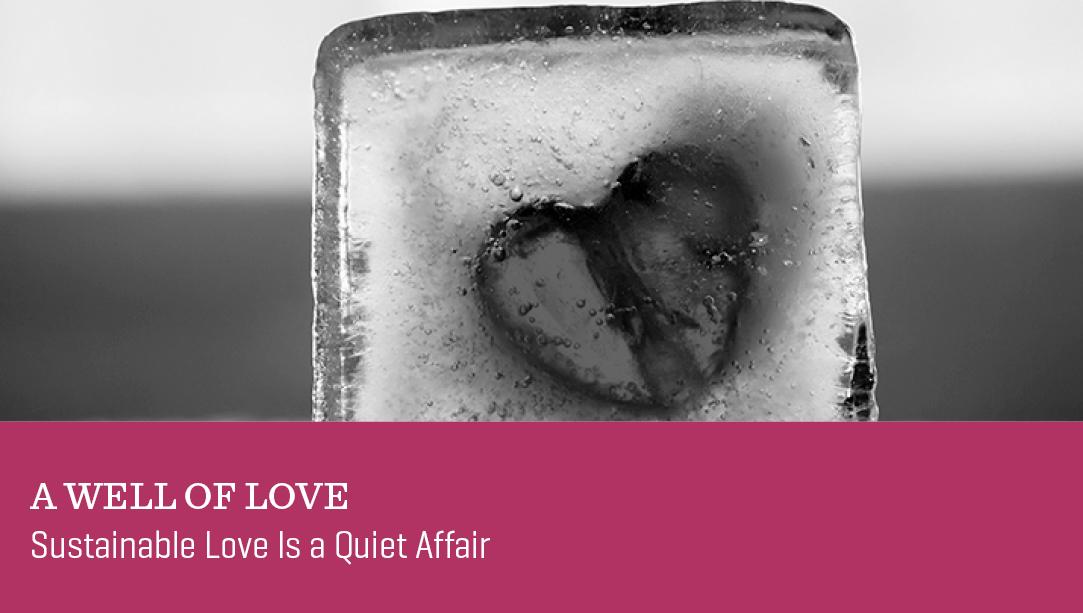 A Well of Love
Sustainable Love Is a Quiet Affair
To be "in love" is to be generous, wide open, and full of dreams. That's a great first step—but it's only the first step. Abraham, the first Jew, was a man of kindness, yet the wells of emotion he dug were ultimately stuffed up. It took his quiet, disciplined son, Isaac, to redig them and open them forever. It's much the same in our lives, too.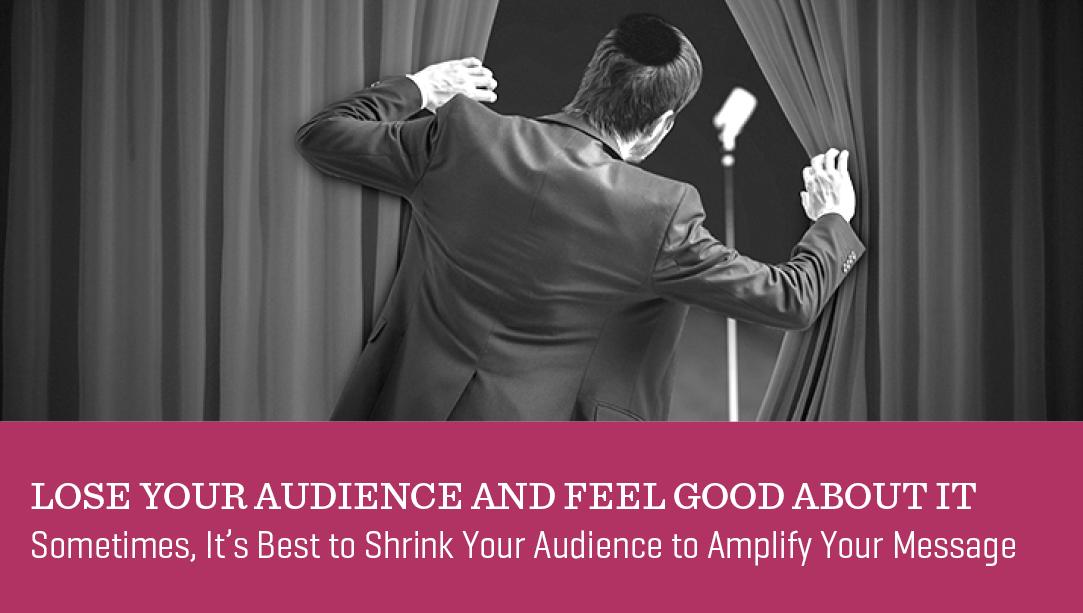 Lose Your Audience and Feel Good About It
Sometimes, It's Best to Shrink Your Audience to Amplify Your Message
Was there ever something you felt strongly about, yet kept to yourself for fear of losing your audience? It's a tough call each time, and the divergent legacies of Abraham and his wife Sarah are quite instructional. Ultimately, it's Sarah who wins the day.
This Holy Land Is Your Land
The Uniqueness of Israel and Our Special Right to It
Debated in the halls of the UN and fought for with much spilled blood, Israel's Jewish ownership is contested time and again. From the beginning of time itself, G-d designated this unique land to stand apart from any other, and gave it to His people. It's time to take a better look.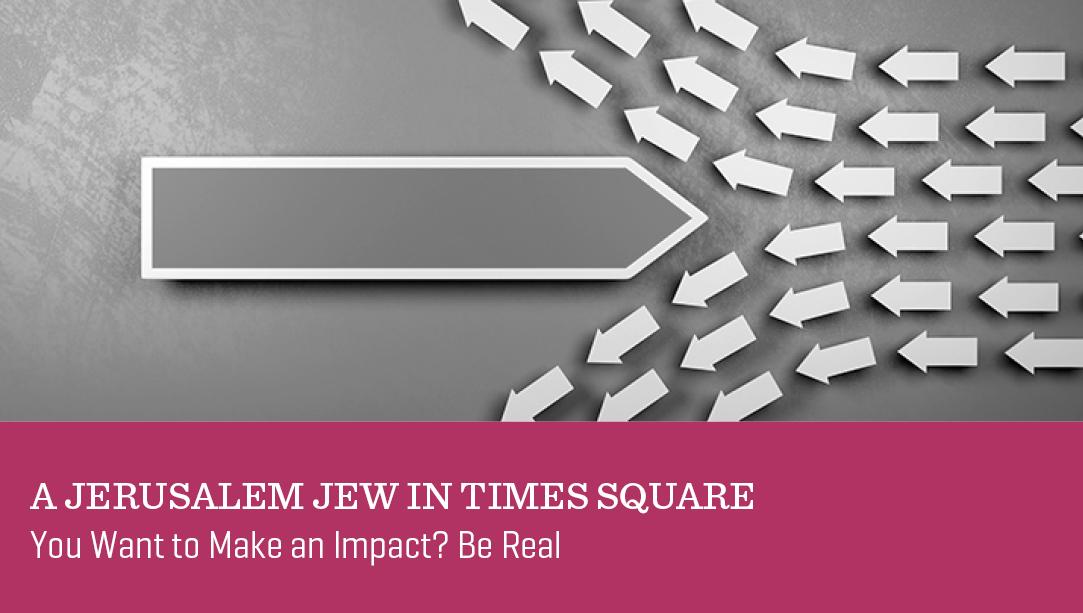 A Jerusalem Jew in Times Square
You Want to Make an Impact? Be Real
Are you a worldly Jew or a Jew in this world? What is your primary orientation? Jacob's brash and forceful reply to his conniving uncle reveals that it wasn't his business acumen that was so impressive; instead, it was his zealous commitment to his ideals. We can do the same.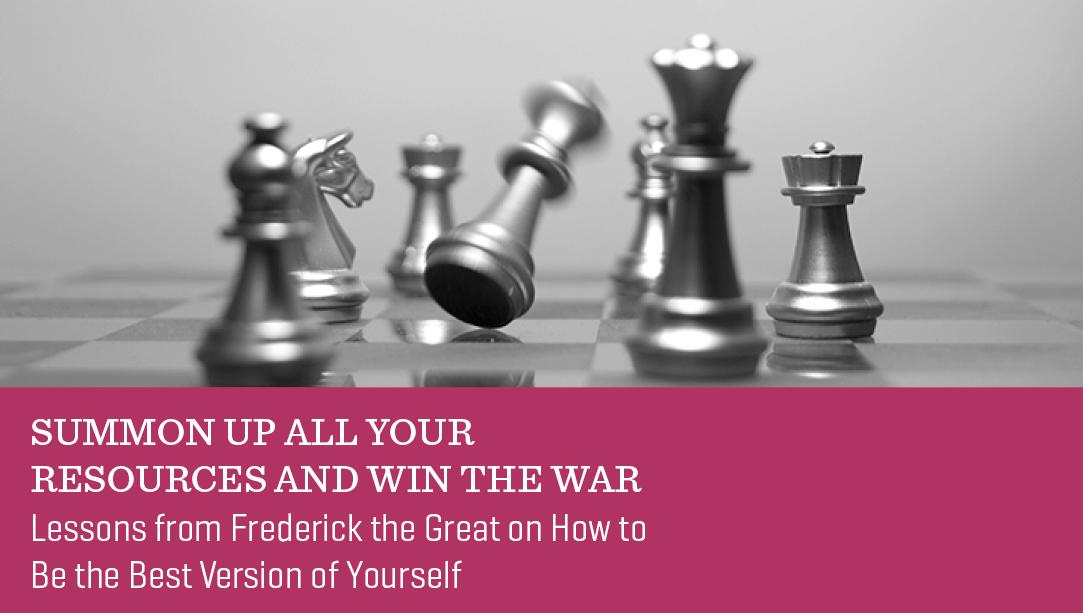 Summon Up All Your Resources and Win the War
Lessons from Frederick the Great on How to Be the Best Version of Yourself
Have you come up short in any personal battles lately? Jacob's tactics against his ruthless brother Esau all the way down to a great Prussian military leader teach us a timeless tactic: don't be a one-trick pony; focus all you've got on one front, and you'll win the war.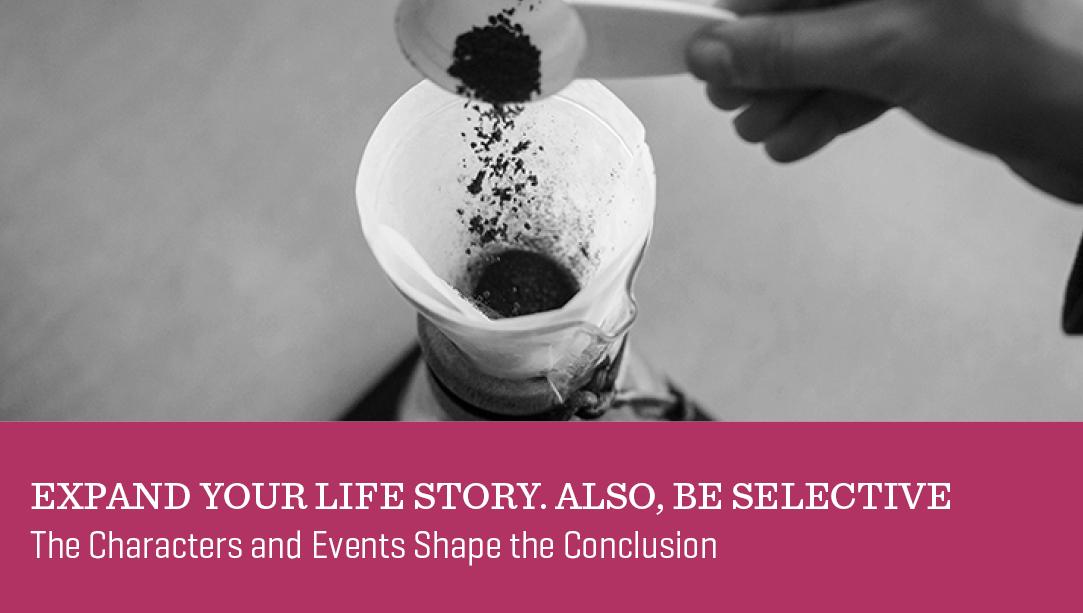 Expand Your Life Story. Also, Be Selective
The Characters and Events Shape the Conclusion
What keeps your air conditioner working, your orange juice pulp-free, and your coffee grounds out of your cup? A filter. Your life's story needs one, too: you should embrace, expand, and engage with as much as possible, and when you do, make sure your filter is extra fine.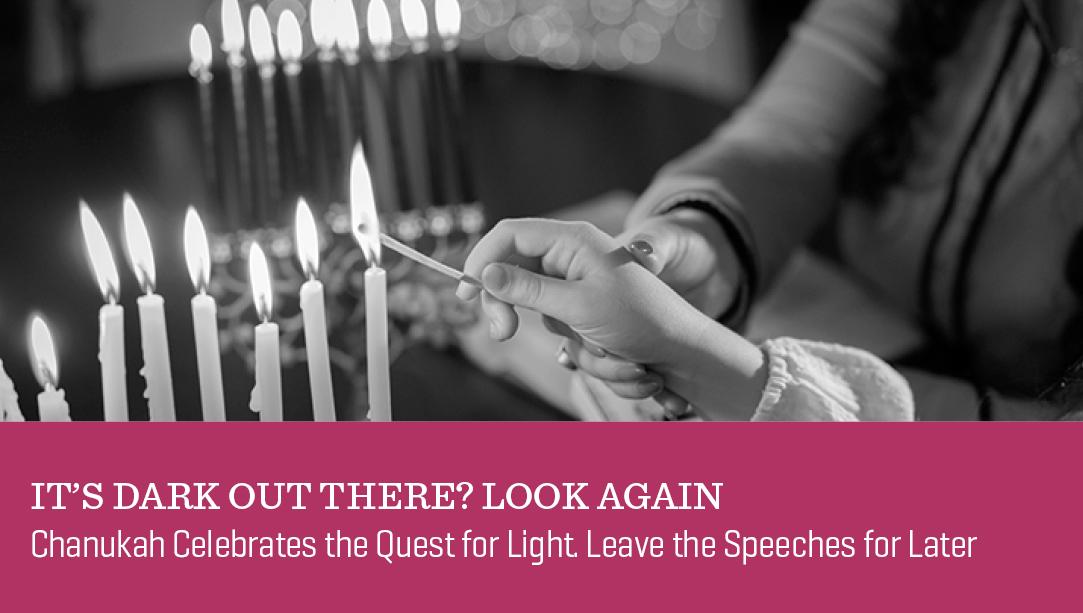 It's Dark Out There? Look Again
Chanukah Celebrates the Quest for Light. Leave the Speeches for Later
Families gathered together in raucous joy to hear the story of the holiday. Sound familiar? Yes—for Purim, not Chanukah. You want to know why there's no Chanukah Megillah? Because when you're busy blazing up the darkness, there's no time for stories.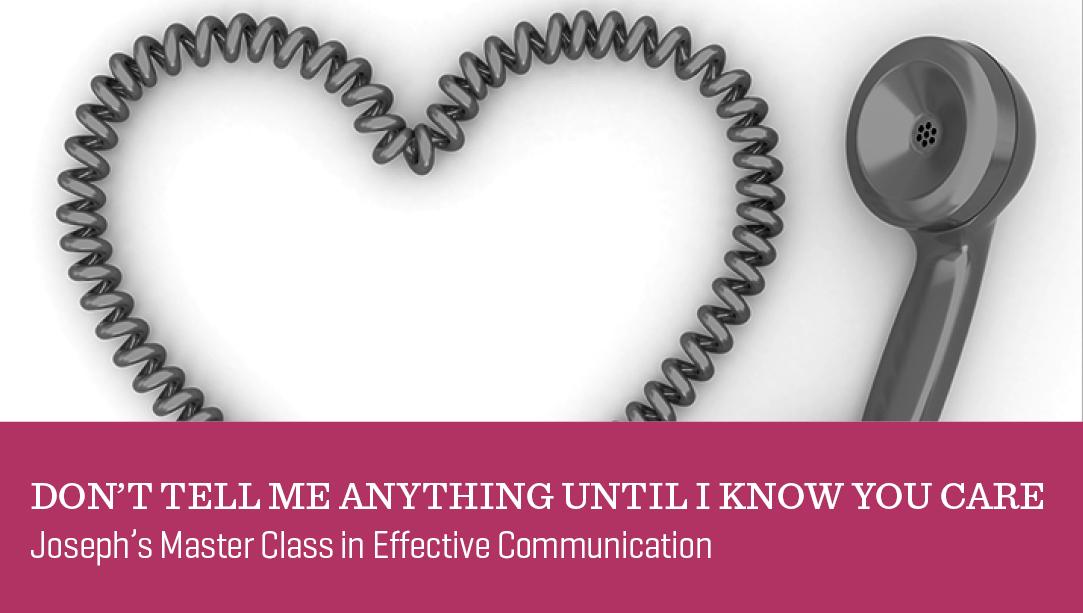 Don't Tell Me Anything until I Know You Care
Joseph's Master Class in Effective Communication
Arguably one of the most dramatic narratives in the Torah, the showdown between Joseph and his brothers and the ensuing emotions after Joseph's big reveal contain timeless lessons for anyone looking to up their communications game.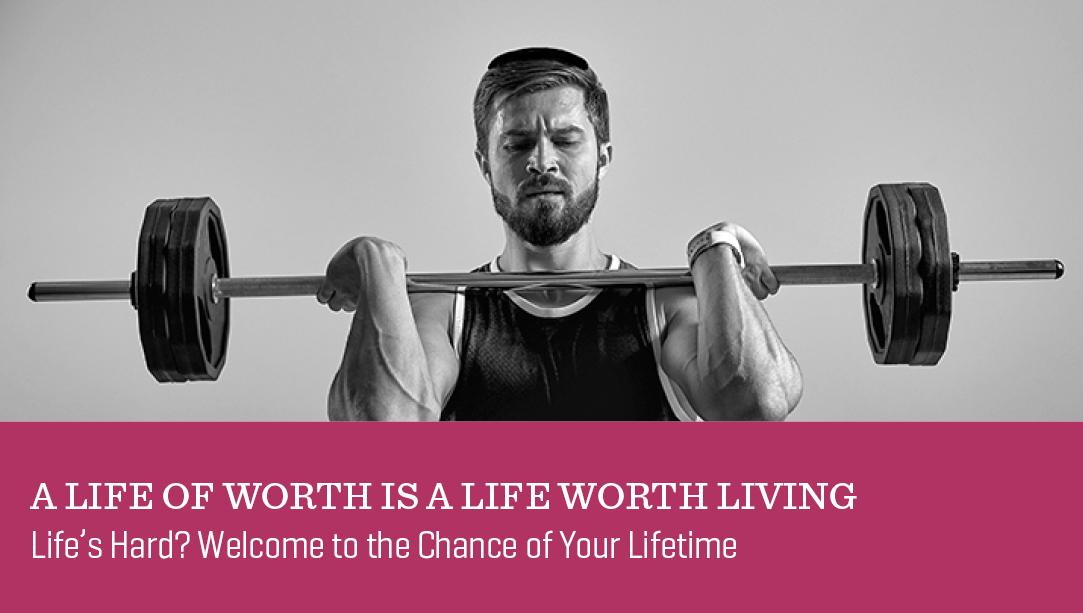 A Life of Worth is a Life Worth Living
Life's Hard? Welcome to the Chance of Your Lifetime
"If anyone would offer to sell me a moment of future suffering for a billion dollars, I wouldn't buy," a famous rabbi once said. "But if anyone would propose to buy a moment of my past suffering for a billion dollars, I wouldn't sell either." Discover his secret.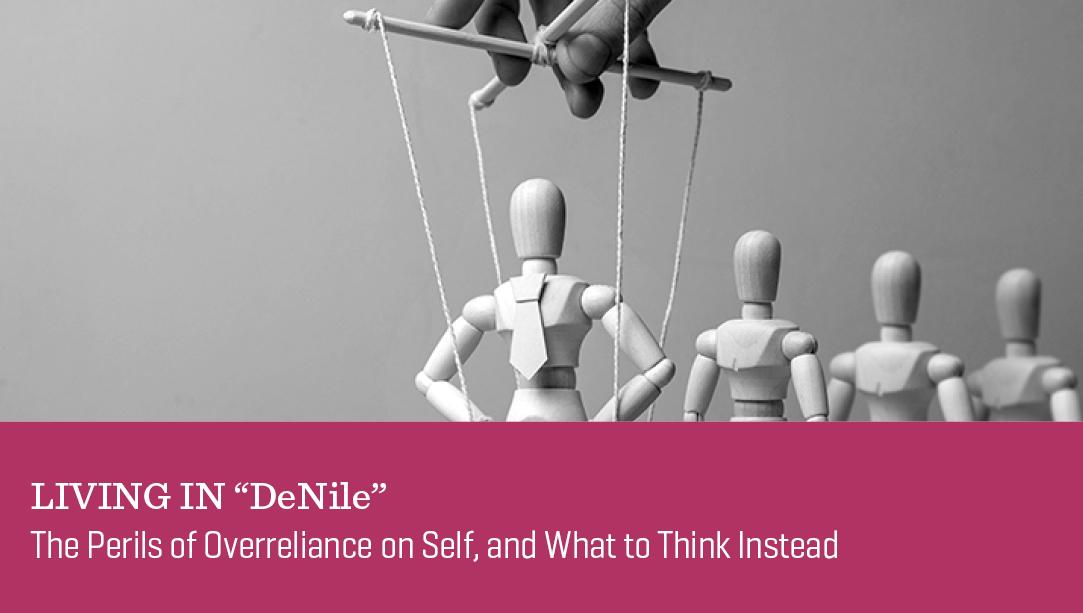 Living in "DeNile"
The Perils of Overreliance on Self, and What to Think Instead
Is the "self-made millionaire" the ultimate success story we should all look up to? Is everything really in our control, our dreams limited only by our capacity to carry them out? Not so fast. That's an Egyptian mentality. Baby Moses floating in a basket down the Nile has a very different message to share.